[Hour] 11:00 - 21:00
[Place] Atrium
[Charge] Free
[With Cooperation From] Ars Electronica
[Held By] Tokyo Midtown
We live in a boundless information society. As various events can be converted to digital data, huge collections of information "Big Data" can now be devoured at ease, individuals have their own media 'sources' and outlets, such as with SNS. On the other hand, the reliability of news sources, and the resulting problems of shared information, including issues with privacy, have emerged as important concerns. It is imperative that each person pay close attention to the meaning of information and handle it with care. In the School of Future volume 2, we think about the meaning brought by designed information and try to touch on this information in a new way.
Paolo Cirio's printed life size images of people captured by Google Street View, displayed in their original locations, become ghosts of the information society, asking the audience to consider privacy on the Internet. So Kanno and Takahiro Yamaguchi's Asemic Languages device, is programmed with AI machine learning to create its own handwritten characters. AI allows the machine to draw self-determined lines and shapes on paper, making people think about communication within the construction of languages and their ability to convey meaning and deceive.
How can we deal with information "Out of Control"?
WORKS & CREATORS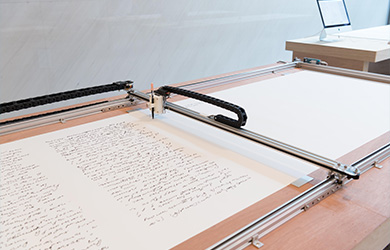 Asemic Languages
So Kanno + Takahiro Yamaguchi (JP)
https://vimeo.com/181188289
"Asemic Languages" is an art work where an artificial intelligence learns hand-written letters and a robot draws this learned data, which looks like characters but has no meaning. With the development of social media, our lives are overflowing with "characters" more than ever. The meaning and authenticity of information is recently being questioned, but how do people engage with characters?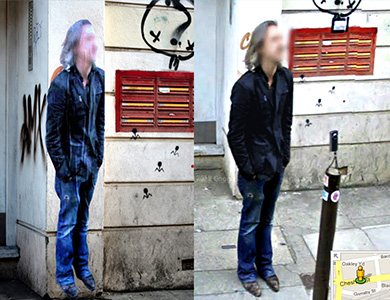 Street Ghosts
Paolo Cirio (IT)
http://streetghosts.net/
"Street Ghosts" is a project to reveal the mosaicked people who are captured on Google Street View developed by Google, as ghosts printed out and placed in their original space. Mixing the information of the virtual space and the real space at Tokyo Midtown, the project reveals how our usual information service is beginning to be involved in our real world.
Paolo Cirio (IT)


The main themes of Cirio's projects relate to privacy issues coming from the development of the information society, such as his "Face To Face Book" project hacking Facebook and creating a fictitious online dating website, and a project to disclose information on tax avoidance companies registered in the Cayman Islands. His projects comment on the gap between ownership and editorial rights of information.
https://PaoloCirio.net
So Kanno +
Takahiro Yamaguchi (JP)
Started collaborative production from 2011.
Through the movement of the double pendulum, using digital media, the drawing machine "SENSELESS DRAWING BOT" creates graffiti in realtime, asking what is the 'essence' of graffiti. "Avatars" are everyday objects connected through the internet, which share the gallery floor space with visitors, they use digital media to make people think about the behavior of artifacts and the meaning of the work created from them.
http://kanno.so/
CLOSE