ACTION REPORT
VOL.01
SCHOOL OF THE FUTURE
-OPEN STUDIO-
"What IF? Exhibition"
-The World Seen from a Different Perspective-
-
Time

11:00 to 18:00

Venue

Plaza B1

Organizer

TOKYO MIDTOWN

Collaboration Partner

ARS ELECTRONICA

Creator

David O'Reilly
Daily Portal Z/Techno-Shugei Club
Ryota Kuwakubo
ARS ELECTRONICA Futurelab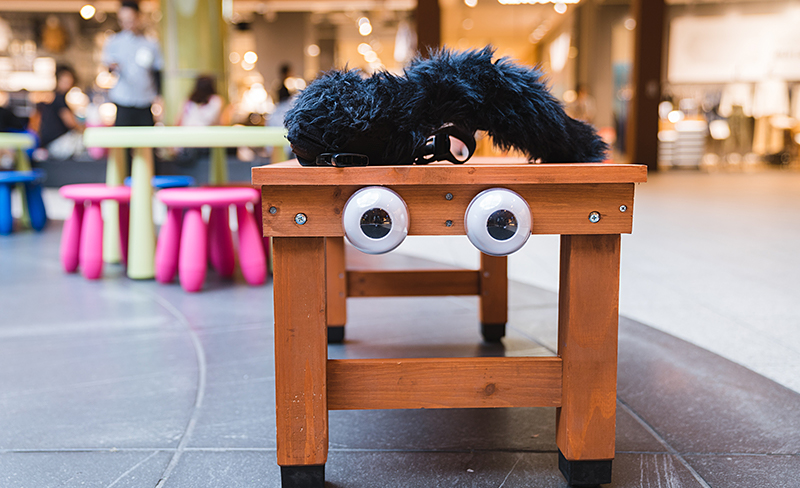 TOKYO MIDTOWN is holding "SCHOOL OF THE FUTURE -OPEN STUDIO-" as a collaborative project with the global creative organization ARS ELECTRONICA.
A new place to think about a future that is not taught in school, through design and art. That is what "SCHOOL OF THE FUTURE" is.
In this report, we are going to tell you about the "What IF? Exhibition" -The World Seen from a Different Perspective-.
This exhibition presents a collection of artworks through which you can intuitively experience changes of perspective. The exhibits include "Everything," through which you can gaze at the world from the perspectives of various living things, "BigFace," which makes your face bigger when you wear it, and "SiliFulin," a tail that swishes along with the movement of your waist.
Technologies that were "cutting-edge" and "special" just a few years ago are rapidly becoming "the norm" and indispensable parts of our everyday lives.
What will the future be like when we are old and our children have all grown up?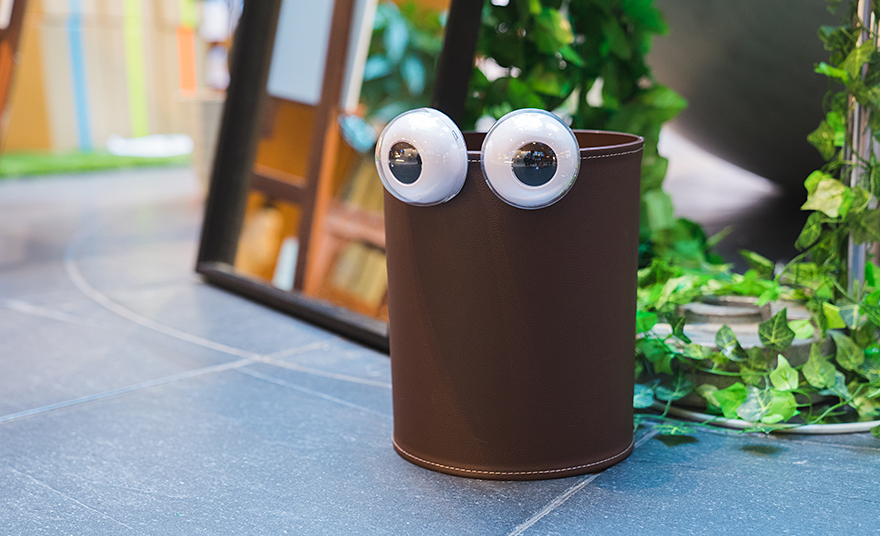 When Technologies That Were "Cutting-Edge" Become "the Norm"
In the Austrian city of Linz, ARS ELECTRONICA has been thinking about a better future while driving forward media art, science, and society simultaneously for nearly 40 years now. "Media art" and "science" may sound difficult, but what they have in common is this question: as technologies that were once "cutting-edge" keep on becoming "the norm," how should we deal with them?
We believe this question is essential to living in modern society and for children and us to work together to create the future.
"SCHOOL OF THE FUTURE" is a collaborative project by TOKYO MIDTOWN and ARS ELECTRONICA for thinking about future society together with participants.
Let's take a look at what they have done to create a platform to enable children to touch, think, and get a deeper understanding of "a future that is not taught in school," through design and art.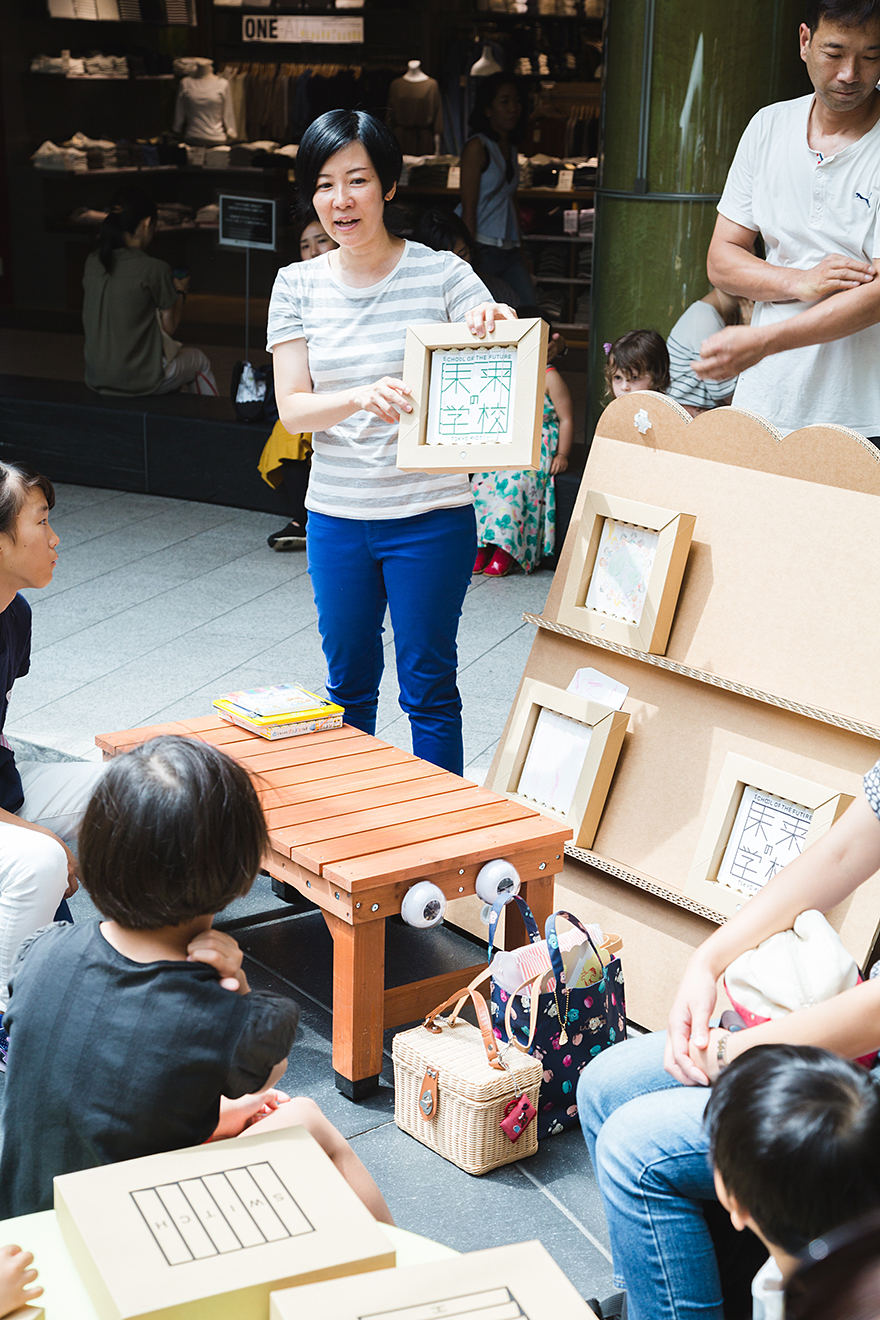 Is It Difficult To Look from a Different Perspective?
What we want to convey through "What IF? Exhibition" -The World Seen from a Different Perspective- is the idea that "looking at it from a different perspective will change how the world appears." Having said that, while "looking from a different perspective" may seem easy, it is actually more difficult than you think. That is because we "optimize" our thoughts and bodies to suit our everyday lives and habits. Thinking "what if...?" itself actually requires a lot of energy.
The game "Everything" developed by David O'Reilly is one of the hands-on works on display.
O'Reilly is a world-renowned 3D animation director. His latest work "Everything" is the first-ever game to be nominated for the Academy Award for Best Animated Short Film.
What kind of game is "Everything"? What did children experience through playing "Everything"?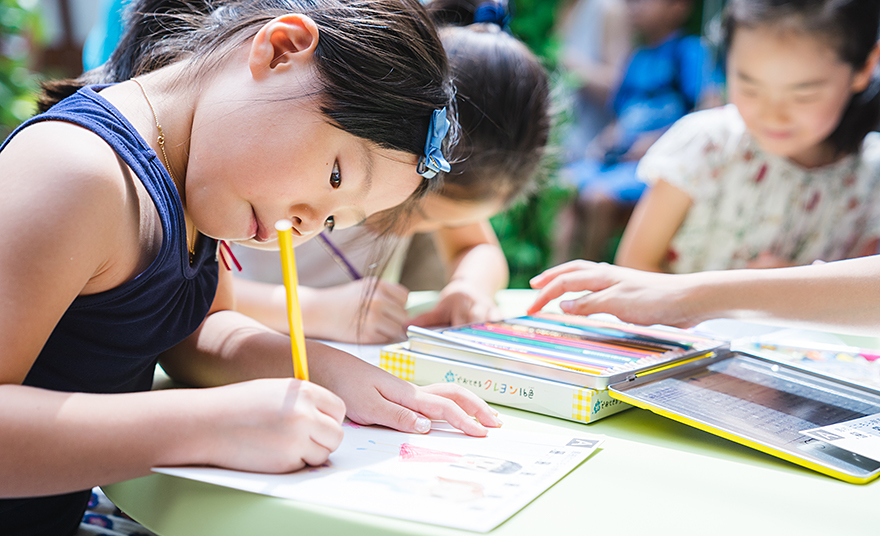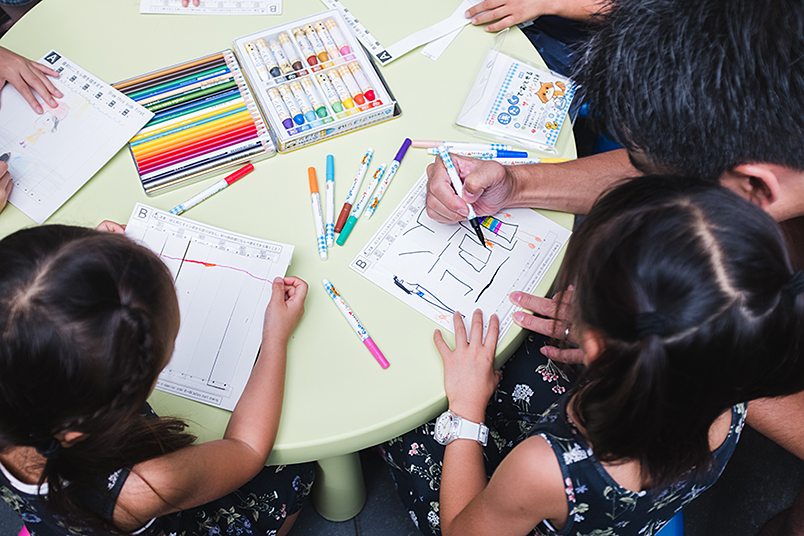 How Will the World Look Seen from the Perspectives of Various Things? "Everything"
"Everything" does not have a story as such. The players move around the world from the "perspective" of various of things, such as a bird, bear, or ladybug—all the way down to a cell, and all the way up to a galaxy. Switching between perspectives is easy and intuitive, so the children can look at the world through the eyes of a whole range of things from the extremely small to the extremely large, or as part of a flock. They get to see the world from the perspective of insects they are always watching, or of stars they can normally only look up at. As they play the game, the players discover "themselves" among beings that are "other than themselves," and absorb into themselves things that are not of themselves.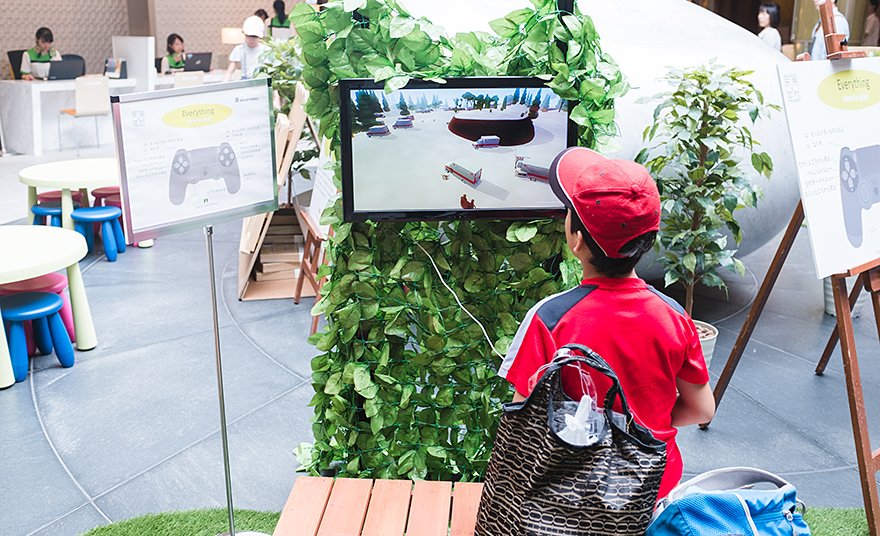 Transform into a Different You from Usual! "BigFace" and "SiliFulin"
Let's also take a look at "BigFace," a box that makes your face bigger when you put it on your head. This box literally gives a person a "big face" when they put it on their head. It makes them look just like a character from a Japanese anime or video game. Even family members whose faces are so familiar will look completely different if they put on "BigFace." It is amazing how much simply changing the size of someone's face can change people's impression of them.
"SiliFulin" is a work created by media artist Ryota Kuwakubo. As its name suggests (in Japanese), it lets people walk around wearing a swishing tail. Our distant ancestors had tails just like monkeys, but lost them over the course of evolution. "SiliFulin" swishes with the movement of your waist, and as you wear it, you will increasingly want to try moving in different ways from usual. Maybe some of those ways were how humans used to move, long, long ago. Ryota Kuwakubo also exhibited a work called "Nikodama" that lets you give things a pair of eyes. If you put "Nikodama" on something, it will blink and seem like it is alive.
In the workshop, an interactive drawing board called "SWITCH" that was co-developed by ARS ELECTRONICA and ELEKIT was also very popular. Pictures drawn by participants switch places in response to people's movements.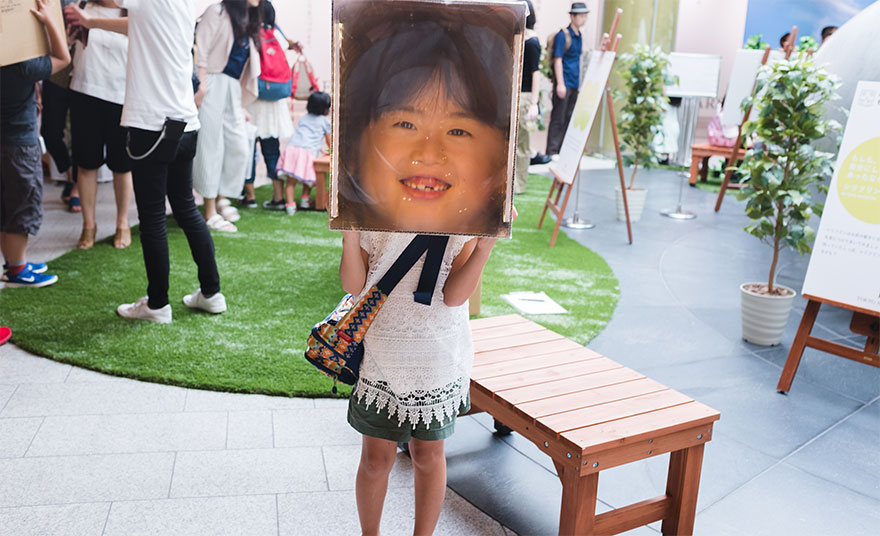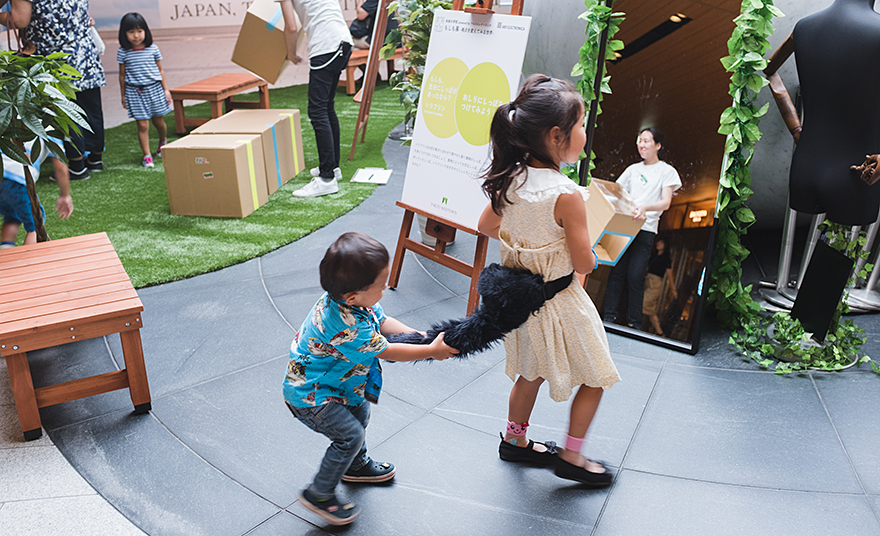 Always Think "What If...?" from Multiple Perspectives
Through media art, the "What IF? Exhibition" enabled people to experience seeing themselves from different perspectives. More than 800 groups—over 2,000 people—participated during the event period, enjoying opportunities to think about the future while enjoying workshops and games. Children got to encounter different versions of themselves through art by "transforming" themselves with big face or into a human with a tail. Just as "you" and "people and things that are not you" are different, "you now" and "you in the future" are also sure to be different. If you always try to think "what if...?" from multiple perspectives, maybe you will be able to have a dialog with "you in the future" anytime.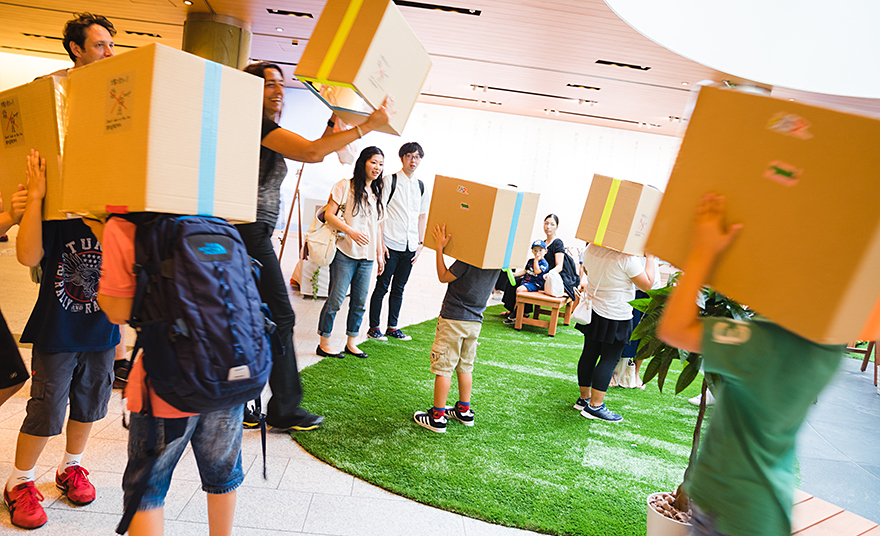 MOVIE