Three artworks exhibited in Midtown Garden
Nami
First, we'd like Kyoko to introduce the overall theme, "FUTURE PICNIC".
Kyoko
Sure. The idea came from a question; "what kind of exhibition can we do now?". When we delved deeper into this question, we realised that the most affected by the pandemic was our daily lives. Can we, or how can we connect and share with people in a time when our mobility is restricted, our work and classes are online, and we can't see the people we want to see? As Midtown has a beautiful plaza called the Garden, we decided this concept to think about the new commons in a casual way through picnics.
We exhibited three works in the corner of the Midtown Garden.
Rope
Kyoko
The first piece is called "Rope". The motif of this artwork is a rope, and it is 12m long and 30cm thick (the longest version of this piece is 60m long!). Rope transforms spaces by travelling with the artist to different corners of the world and placed in various places. Rope's message is "let's do something together", so the visitors may use it any way they want. You can sit on it like a furniture, lie down on it, or play around and change the shape. That's what this piece is about.
It's not only placed in parks, but also on street corners, and that can cause problems.
For example, when Rope was placed in a Belgian town, one of the residents argued "I don't want you to put this in front of my house". Although Rope had to be relocated, it was later accepted by the residents. A new relationship was created between the artwork and the residents. Rope creates an opportunity to think differently about the place its exhibited and the everyday lives of the people who live there.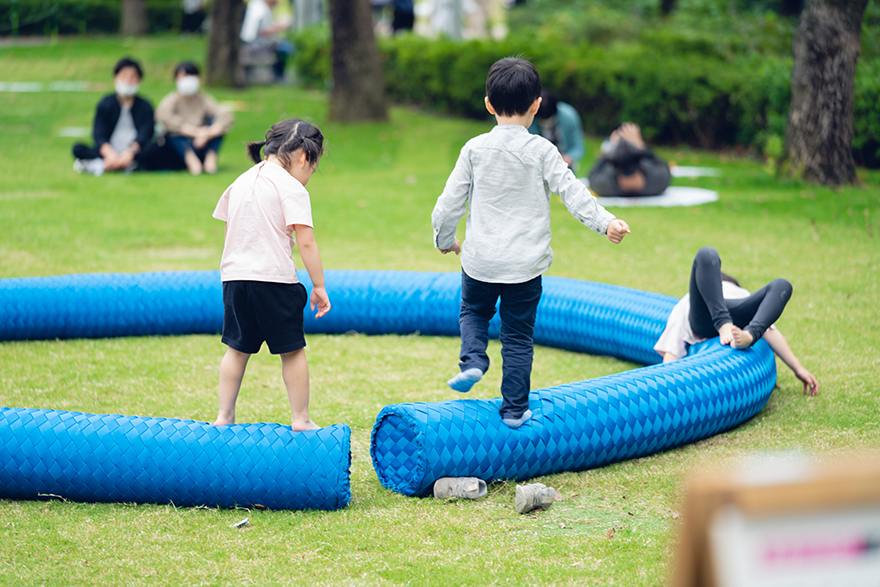 During the FUTURE PICNIC Exhibition, we held workshops with the visitors. We took a walk through Tokyo Midtown with Rope and tried to think what kind of commons there are in Tokyo Midtown (the workshop was held on 31st October and 3rd November).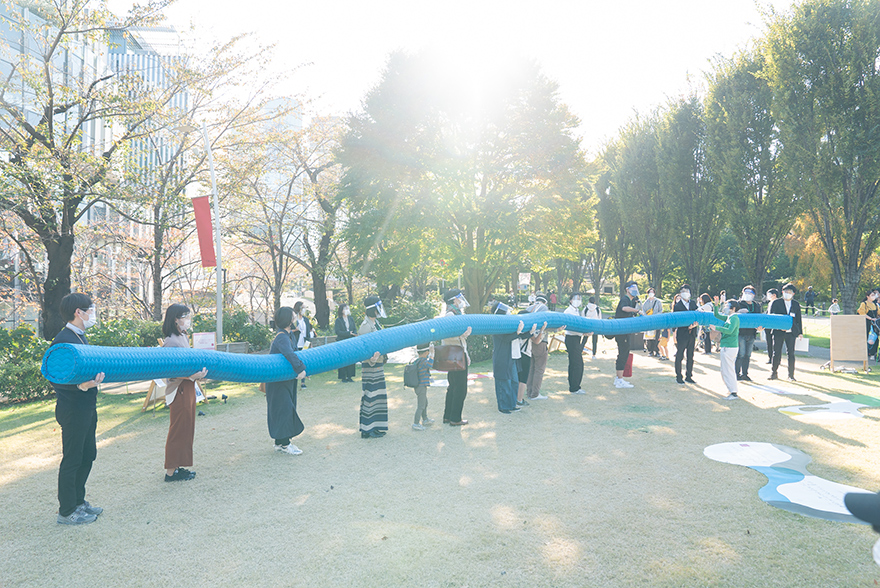 PICNIQ Sheet
Nami
As you can see in the title, the C at the end of PICNIC is a Q. This picnic blanket is printed with different questions (Qs).
These are questions we want to ask visitors, such as "how would you like to use this place?" or "what does this place mean to you?". This is a unique picnic that allows visitors to think about commons. The shape of this piece is also special as it enables people to sit at a natural distance from each other.
Also, there is a hashtag "#MyMidtownGarden" written on the picnic blanket. If you post something with this hashtag on any SNS, Tokyo Midtown will be able to pick up your thoughts and ideas.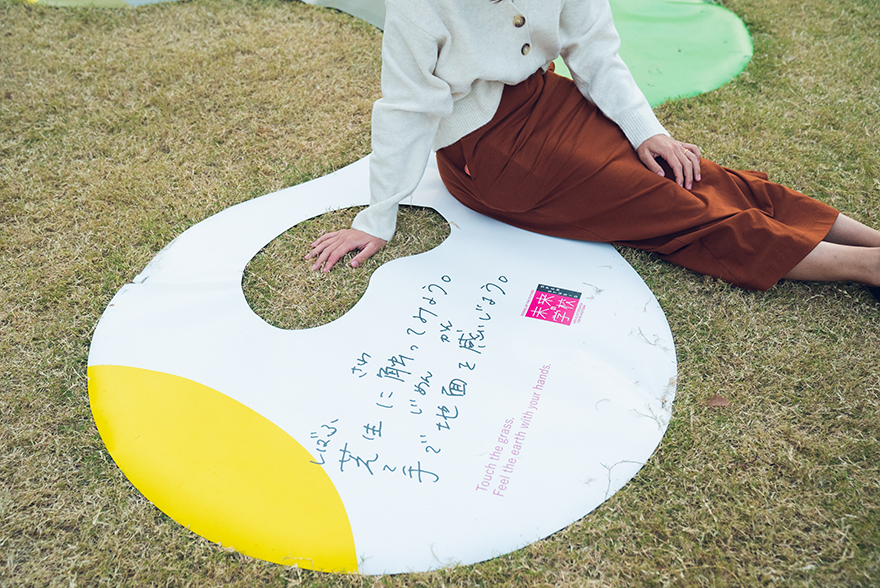 Air on Air
Yasuaki
Let me explain about "Air on Air", as I'm the artist who created this piece.
I usually work with members from my university lab to research interactive technologies while also developing media art and design using those technologies.
Specifically, we have been working from a very early stage on how to bring interaction and computation outside the screen.
This edition of Air on Air was created for last year's Ars Electronica Festival 2020. We've been attending the festival every year, but we couldn't make it that year due to the pandemic. We were suggested to make a video presentation of our activities and give an online talk, but we thought that would be uninteresting, and instead, came up with this piece.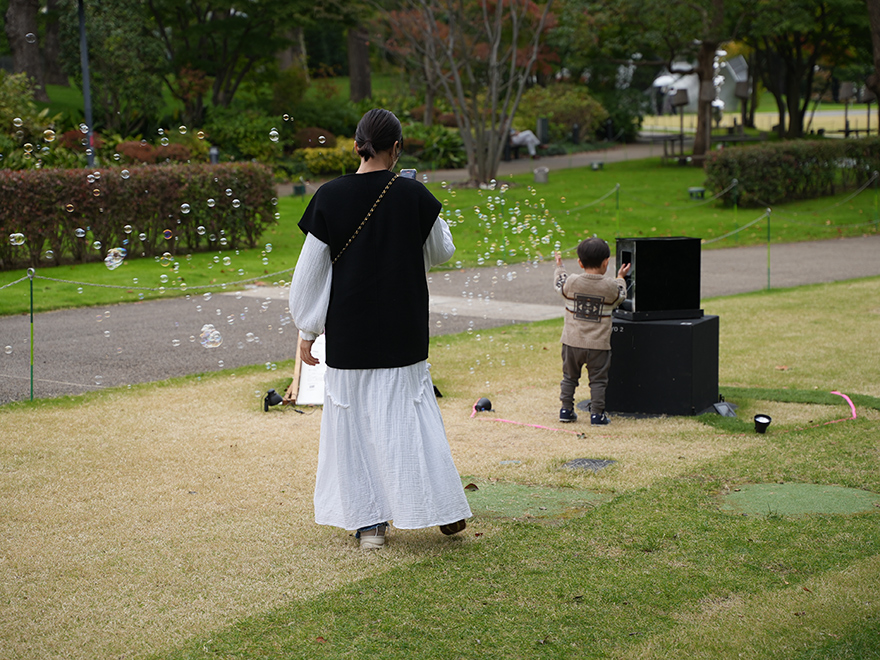 Inside the black box is a bubble machine, which is connected to the internet. You can access from another location with your smartphone or laptop, blow into the microphone of your device, and the information will be transmitted to the bubble machine. You can see the bubbles flying from a first-person perspective as if you were physically blowing into the bubble machine.
During Ars Electronica Festival 2020, This work was placed right next to the Ars Electronica Center, on the banks of the Danube.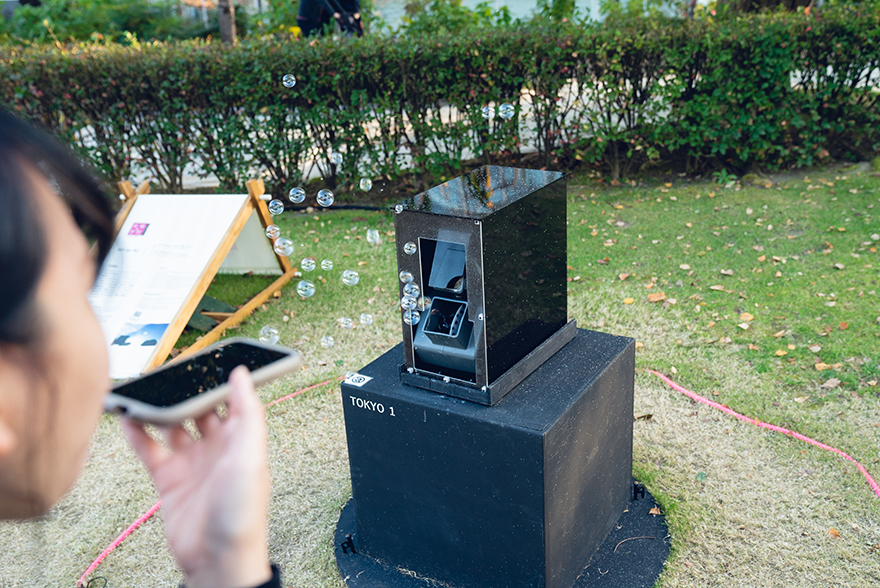 As I experienced this piece and observed the bubbles, I could feel an actual space on the other side; there is wind flowing beyond this remote flat-screen, along the atmosphere of the festival.
We were also able to communicate with people in the location where the box was placed through bubbles. I realised that this is a unique quality of a real and online hybrid piece.
For this FUTURE PICNIC Exhibition, everyone can easily access the bubble machine placed in the Midtown Garden via a QR code.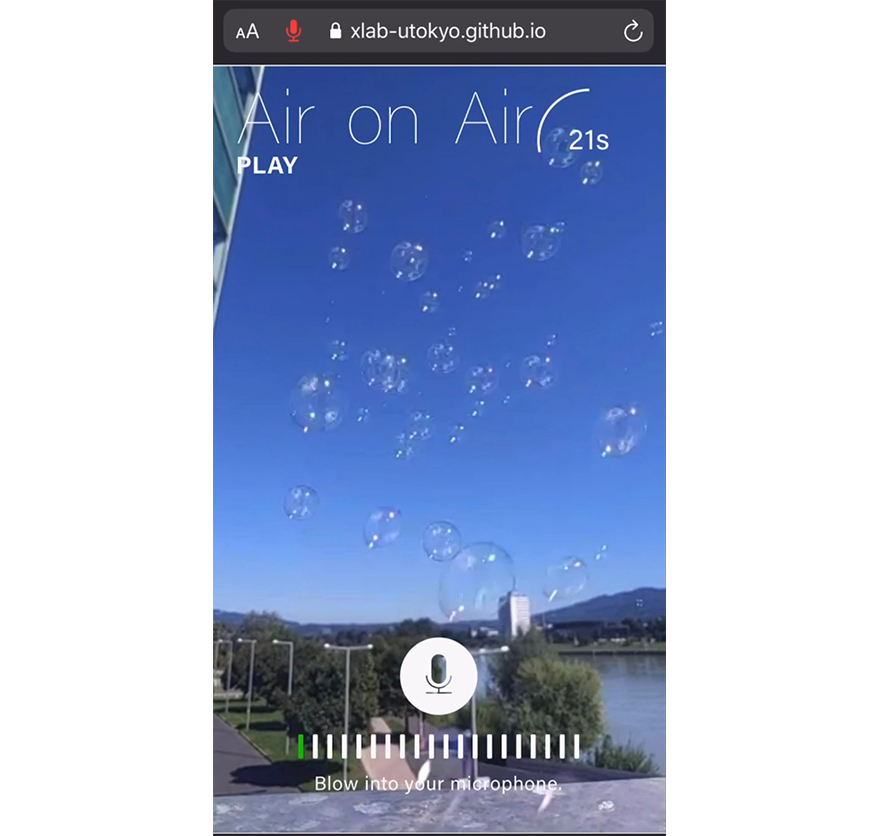 What kind of commons do we need now?
Nami
From here, we'd like to invite Motoko Tanaka, who has been involved in various commons-related initiatives such as the Cafe Laundry, to discuss the commons needed today. Motoko, what is your thought around commons?
Motoko
The first thing that comes to my mind is the word "bowl". An empty but fine quality bowl is my image of commons. Everyone tries to make something to put inside, like fried chicken or rice. But I think it's essential to create a situation where the content wants to be generated, in other words, to create a fine bowl that people are naturally attracted by.
Cafe Laundry operates on this concept. As the name suggests, the appearance of the space is characterised by washing machines. It's only been open for three years in Sumida-ku, Tokyo, but the cafe has been decorated as though it's been there for decades. I didn't do it all by myself. It is a result of visitors and staff accumulating ideas and practices like, "wouldn't it be cute to have some plants here?".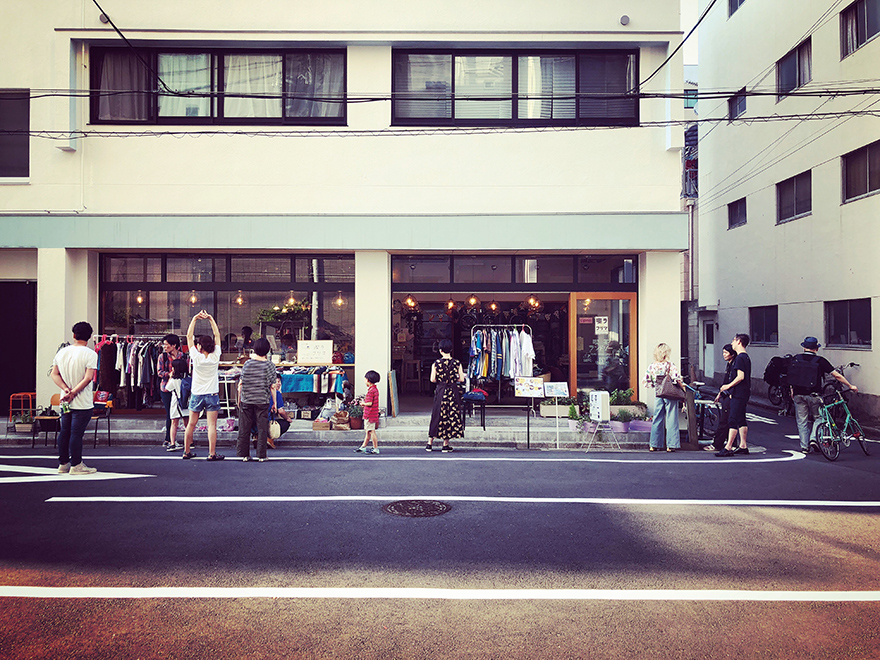 We held more than 100 events so far, but none were organised by me or prepared by Cafe Laundry. All of them were organised voluntarily by customers and neighbours who asked us to use the space.
These places can be created without depending on me. For example, our cafe in Miyazakidai, Kanagawa, is located on the ground floor of a gym and is run entirely by the office staff. The space is filled with their originality, such as the facade covered with plants and windows decorated with seasonal chalk art that they drew.
The Hoshinotani space in Zama, Kanagawa, is located on the ground floor of an apartment and is run voluntarily by the neighbours who sell sundry goods, build a library bookshelf, sell vegetables from on-site farms or build composts around the space.
I produce other spaces too.
For example, "TOKYO BENCH PROJECT" is a project that places benches in Tokyo. Once we place benches in public places, we can visualise people sitting, eating, talking and so on. If there were no benches, people would simply pass by, and their figures would disappear. With a bench, we can observe various people.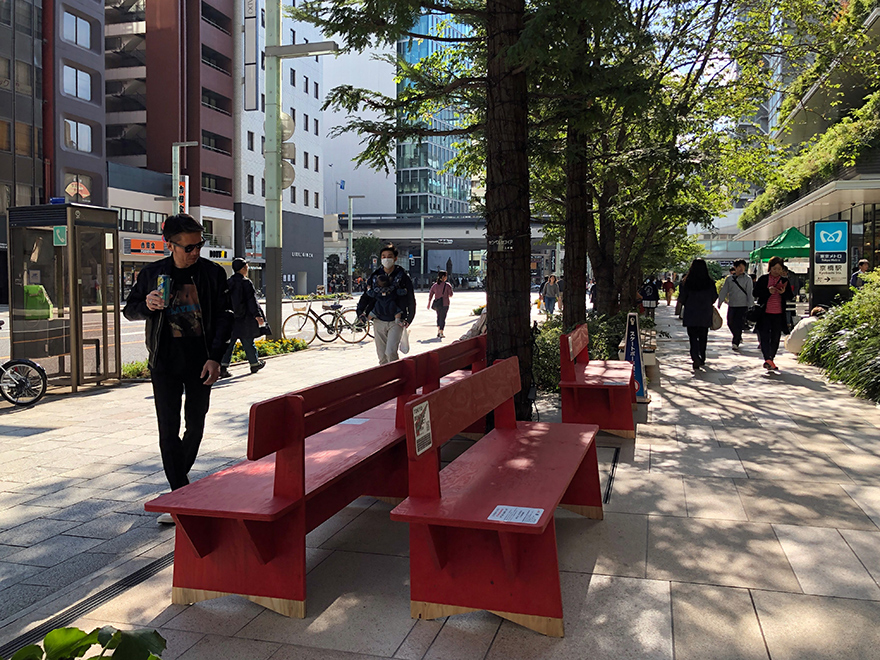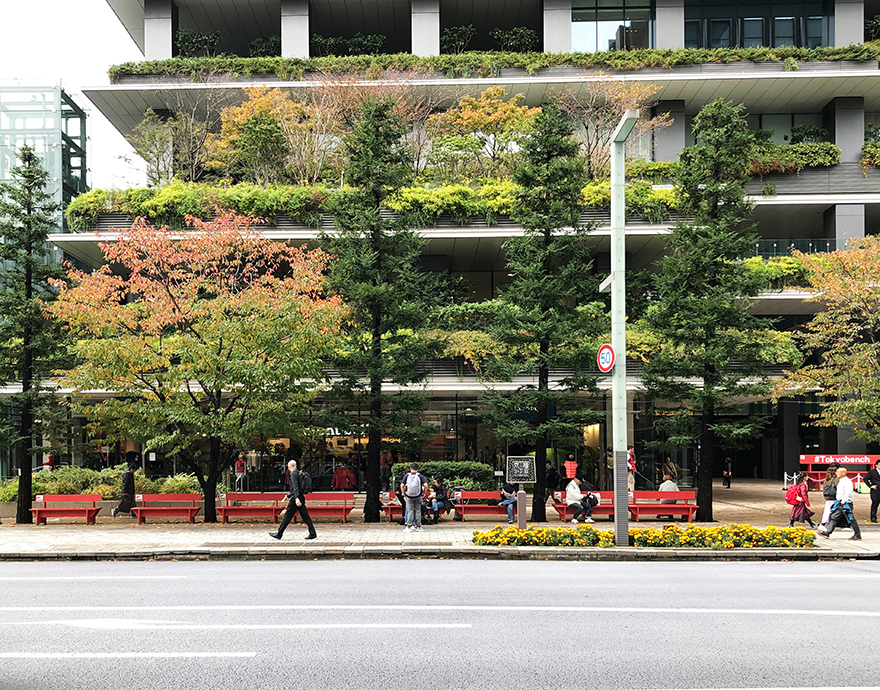 We do this because we want to create an adjoint line in the city that makes people want to do things without being asked. It's not only about the hardware and the software, but also about the mechanism that triggers communication. We apply this idea to Cafe Laundry too. We think about the most effective usage and service of the place, and design the hardware, software and triggers all together.
The commons that Tokyo Midtown should create as a town
Nami
The SCHOOL OF THE FUTURE is a pop-up, so it's not permanent like your bench. What do you think it takes to make a temporary action permanent and sustainable?
Motoko
I think the important thing is to make something that will be missed. It's about how many high quality "triggers" or "bowls" you can create that people wish they had forever, like the Rope and bubbles (Air on Air) in this exhibition.
Nami
Yasuaki, how do you feel about your work "Air on Air" after exhibiting?
Yasuaki
I'm seeing the potential of the online. When I'm not in Midtown, I often check the garden via the Air on Air website, and it's fascinating to see how the scenery changes depending on the time of day. At dawn, there are dogs watching soap bubbles! After a while, office workers pass by, couples come to relax, families visit, and children run around on the weekends.
On the website, we have access from worldwide, from Sweden, Vietnam, United States. It's exciting to imagine how people are experiencing this place.
Nami
Kyoko has been involved with the SCHOOL OF THE FUTURE Project since its inception in 2017. Do you feel that this project is different from previous initiatives?
Kyoko
The social situation has changed due to the pandemic, so the meaning of creating an event itself must have changed too. On the other hand, Tokyo Midtown itself hasn't changed. The people who work in the office area and the neighbours who come for a walk still use this place on a daily basis. Within their everyday routines that continue from pre-pandemic times, I believe this event created a new way for them to interact with artworks. I also think that this event opens up the possibilities of Tokyo Midtown to people from overseas who cannot come here in real life.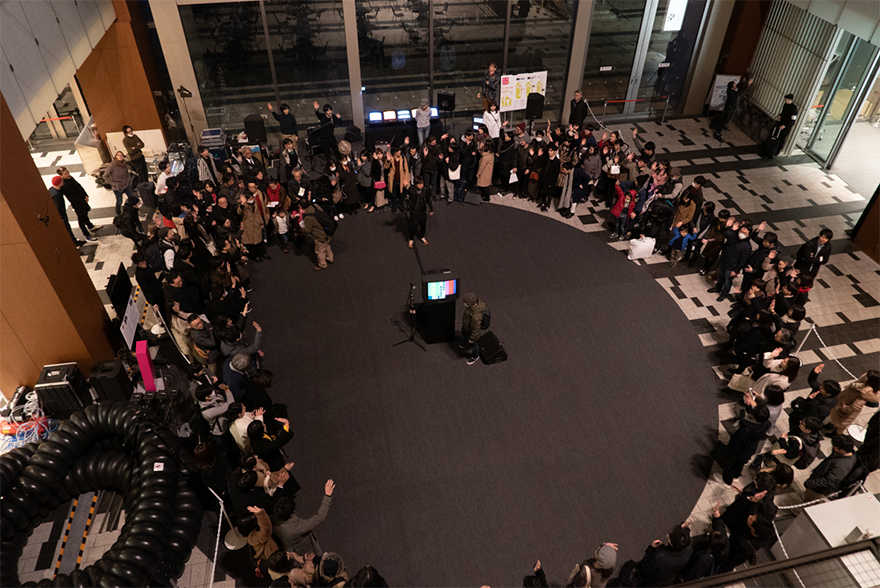 Nami
Do you have any suggestions on the possibility of the new commons?
Motoko
Due to COVID-19, we made progress in the usage of online, but for better or worse, I think it is just the beginning. As Yasuaki mentioned earlier, I would like to dig deeper into the landscapes created by online accesses from multiple locations. For example, to talk about impressions on online specific experiences in an offline situation. I think we're degrading both online and offline while we are still saying that online meetings are a substitute for offline meetings.
Nami
I think the attractiveness of Cafe Laundry as a commons is in how the characteristics of the people involved are directly reflected to the space. How can we create such a space?
Motoko
I often compare it to a disco, where the hardware is the disco box, and the software is the service that allows you to dance. When the time comes, and someone has to be the first to dance, the groove of the first person who dances will decide the atmosphere of that night. If you're too good, other people will feel intimidated, and they won't show their personality. I think one of the first things you need to do is to communicate with people in a more relaxed way and say "it's time to dance, let's dance together".
Nami
Should we let everyone's personality come out naturally?
Motoko
I feel that Japanese people feel ashamed if they fail and have a mental structure that is about obsolescence rather than modesty. Changing society is a grand agenda, but it'll be nice if Tokyo Midtown can be a starting point of a commons where people feel fun and feel the urge to dance.
Nami
Yasuaki has been to many exhibitions abroad, including in Linz, Austria. Do you feel any differences from Japan?
Yasuaki
Most of the people who give clear feedback on my work is from overseas. But I think that there are many ways to express personalities. If you're not good at expressing yourself in words, you can draw it in pictures or express yourself through programming. I think there should be more places and more education that allow such diverse ways of expression.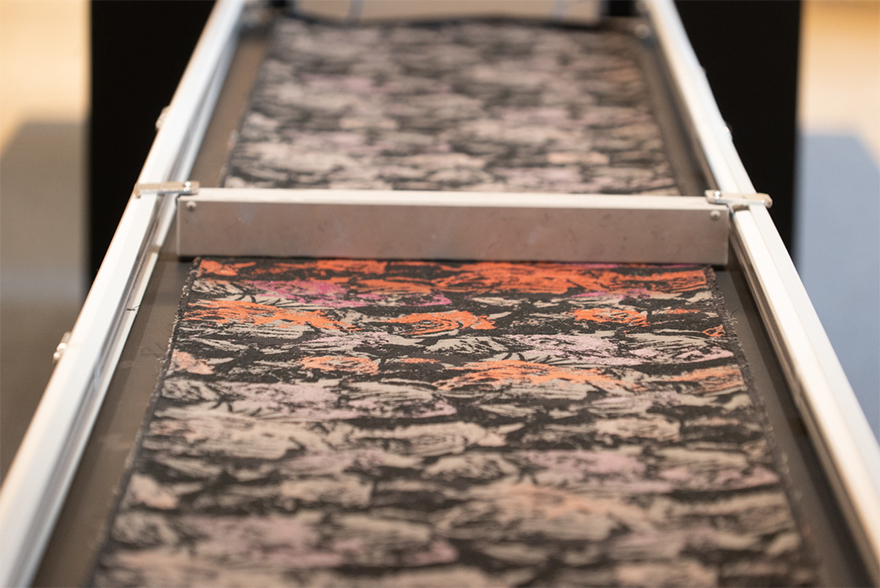 Nami
If we sum up Motoko and Yasuaki's comments, the core question is about how to create a place where people can express their personalities to the fullest, and there's many ways to express personality - people can find their own way of expression.
Motoko
Yes. People tend to think of uniqueness as something very sharp or unusual, but being quiet or feeling low is part of uniqueness too. We are all pleiotropic, like a Rubik's Cube, and the side we show changes depending on the environment and situation. The important thing is the awareness of what permission is given from this environment, including the physical setting.
Nami
To create a good environment, you have to get the right people too.
Motoko
I don't think there is such a thing as good company. Everyone around you is a good company. Instead, it is the skill of the person who dances first to lead them to be good friends. If you only have guests who can use the room creatively and have good personalities, that's not a commons. That's a salon.
Nami
Kyoko is also involved in the Ars Electronica Festival at Linz. I think festivals are a type of commons too. What do you think is needed to create a place here in Tokyo Midtown, where people with different personalities can come together and have fun freely and coincidentally?
Kyoko
I think it's about "in-between spaces". It's not just about having an event. It's about having a lot of gaps around it. These free gaps are about spaces and rules that allow you to lie down and look at artworks from a distance. I think it's essential to have such free gaps.
Motoko
When I opened the Cafe Laundry, I wanted to create an environment where people could enjoy the fact that things are not perfect. That's why even if a child runs around the cafe screaming, the atmosphere is like, "Oh well". If everyone was polite and well-behaved, and there were only people of the same demographics, and a child suddenly ran into the cafe, they'd probably be disturbed. That's why I think diversity is important.
Nami
How do you think artists and artworks can be involved in creating such a diverse environment?
Kyoko
The role of artists and the artwork is to ask, "this is how I think about something, how do you think about it?". If we apply this our talk about commons, art is about giving people something to think about. For example, if there is a piece of art that successfully hacks the rules of a place, it will make people think about the rules of the place and how they can make it more enjoyable for themselves and others. As a result, that becomes the power to spread the new commons outwards.
Yasuaki
People tend to think that art is about creating an artwork, but I think it's also about the viewer becoming aware of something through the artwork. The works from other artists that I like also give me value at the end of the day, because by touching them, I was able to notice something. By involving art, people might recognise the untapped attraction of Tokyo Midtown.
Motoko
Yes, that is the role of the bowl. Actually, it was camping that made me realise the importance of bowls. We used to call for a camping trip in a vacant lot in Tokyo, and we organised a lot of events because it was a nice opportunity. But no one joined! Campers are free, they can stay in front of their tents and read books, or they can just go out and play around.
In other words, I had mistakenly thought that hospitality was about pleasing the passive, when the real joy of camping is about being active, how you see and enjoy what's there. Then I realised that it's not about what's inside the bowl; it's about the bowl itself.
Yasuaki
This event is similar to camping. There's even picnic blankets! When you lie there, you realise that Tokyo Midtown is a very comfortable place to sleep, the wind is very nice.
The next time you come back, the artwork may no longer be there, but you will remember how cosy it was and how the wind blew. I think that's the important thing.
Motoko
I agree. It would be nice if it became a place where people just go there for no reason. I think the word "commons" comes from the idea of a community for everyone's benefit, but in the 21st century, everyone's benefit comes down to "being with someone else". I think commons is a place where you can see the value of being with someone in a positive way. No matter how many people gather together, they don't want to celebrate the existence of others on a crowded train!
So, I think the basic requirement for a commons is to be a truly pleasant place, a place where you can have a good time, and share it.