ACTION REPORT
Time

11:00 to 21:00

Venue

Several places around TOKYO MIDTOWN

Organizer

ARS ELECTRONICA

Collaboration Partner

TOKYO MIDTOWN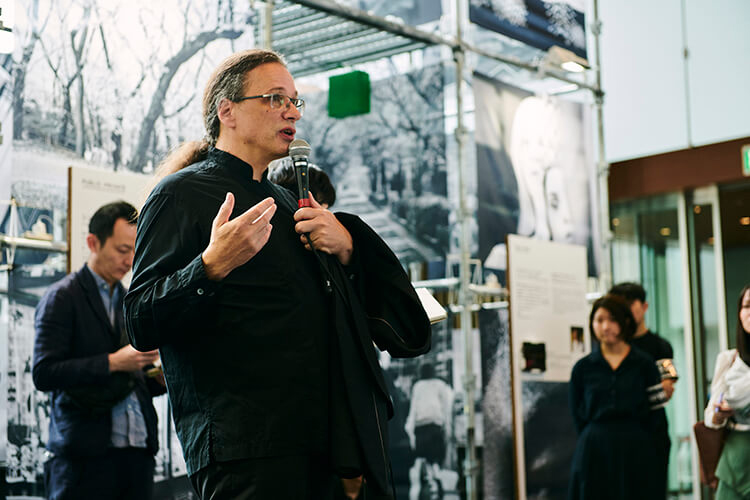 The Future Innovators Summit (hereinafter, "FIS") is an experiential discussion program that ARS ELECTRONICA and Hakuhodo have developed together. Through this program, which was started in 2014, innovators who have gathered in Linz, Austria from all over the world have come up with a vast number of creative questions about the future. Heated discussions among innovators with different backgrounds and areas of specialization, such as artists, designers, scientists, engineers, entrepreneurs, and philosophers, function as a so-called "living think tank."
At FIS TOKYO held in TOKYO MIDTOWN in May 2018, we invited a diverse range of guests and held talk sessions with Tokyo as a "laboratory for the future." We will give a report on FIS TOKYO, which was not just about finding "solutions," but also about suggesting creative questions for creating a better future.
Why "Tokyo"?
Usually held in Austria by ARS ELECTRONICA, FIS was held here in Tokyo this year. There was much anticipation about what kinds of unique questions would be raised because it was in Tokyo. Japan is sometimes said to be a "developed country with issues." This means that Japan is "the first" to face a variety of issues that other countries around the world will face in the future.
Japan—and its capital Tokyo—are working bravely to address a mountain of issues, including environmental problems, population problems, urban and rural problems, and energy problems. In addition, Tokyo is supported by a world-class infrastructure and state-of-the-art technology. The aim of FIS was to reestablish a true Tokyo as a "laboratory for reinventing cities of the future," while still leaving it a living, breathing metropolis that is home to than 10 million people. Today, Tokyo is the best possible place to ask questions about the future.
Three themes were set this year. These were "DEATH-LIFE (What do people in the world's fastest-aging city think life and death will be like in the future)," "TECH-SKIN (Thinking about the future of fashion and the body that is broadcast by a city with cutting-edge technology)," and "PUBLIC-PRIVATE (Thinking about the future of private and public in a city with no open spaces)."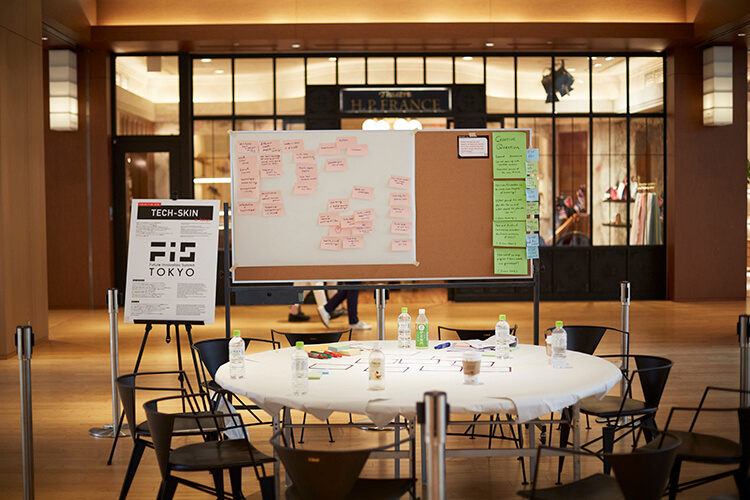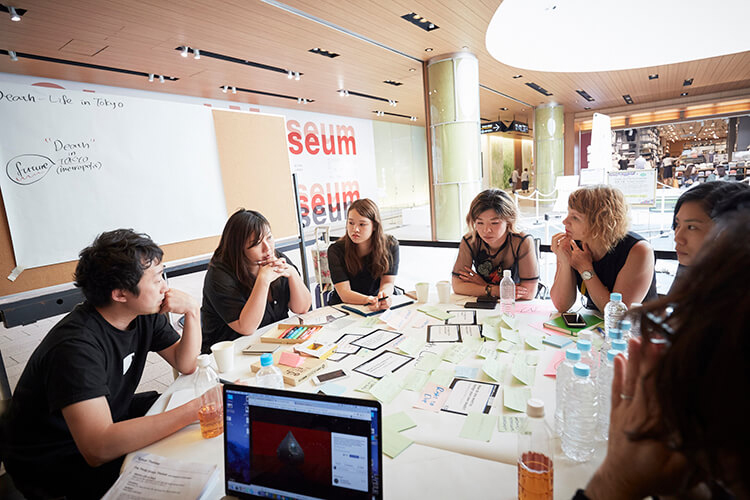 Life and Death in the Future
The DEATH-LIFE team tried two approaches to tackle the question of "life and death" it was faced with—a difficult question for which answers will never be found, and that we must contemplate for our whole lives. One approach was to interview innovators who had gathered in Tokyo and compile the results into a video. The second was to create a website and ask people all around the world.
The creative question the DEATH-LIFE team came up with was this: How can we care-fully co-craft death-life? Tokyo is constantly changing and renewing itself like a living thing. Elderly people live there as well as young people. We should look for ways for these generations keep on thinking, hand-in-hand, rather than be divided, or fade away all alone. The DEATH-LIFE team's suggestion that we should "care-fully co-craft" life and death includes a call to look out for each other ("care") together ("co-"). The question of life and death is impossible to answer easily, and compelling for everyone—attributes that are precisely why it is so manifestly important that we work on it together.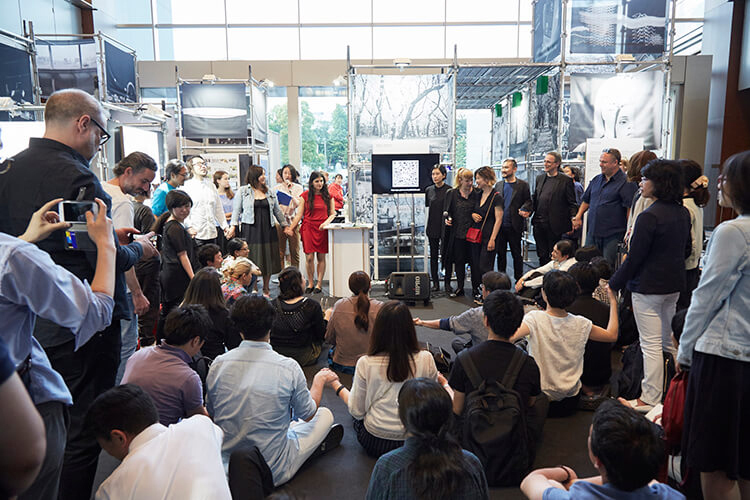 The Future of Fashion and the Body
The creative question set by the TECH-SKIN team was: How can tech skin foster kinship with all living things in a future where human values have shifted?
A future where human values have shifted means a world where a human-centric mindset has been significantly shaken. The TECH-SKIN team said we need to reconnect the global environment with its relationships with each form of life in it, rather than viewing it as just materials that exist to enrich human's lives. Something that will play an important role in that is nothing other than fashion—the surface that binds and connects our bodies to the world. Instead of regarding fashion simply as a tool for looking stylish, we should reevaluate it as a source for creating new relationships with the various living things that inhabit the same environment as us. The TECH-SKIN team has given us a lot of inspiration about the new future that will be created by technology and fashion.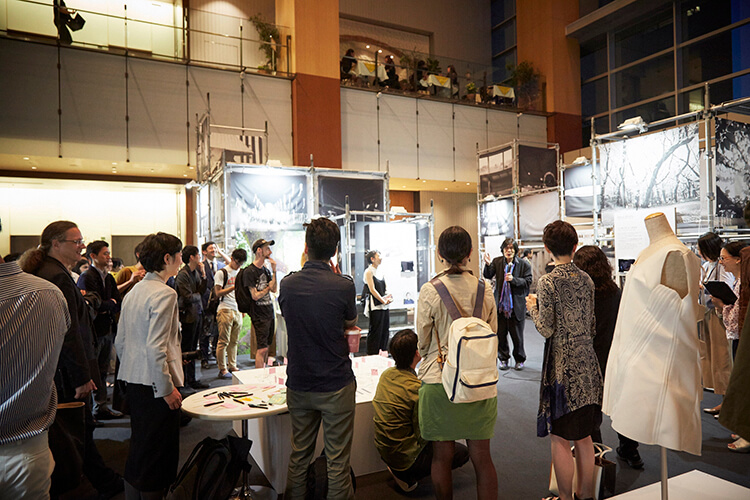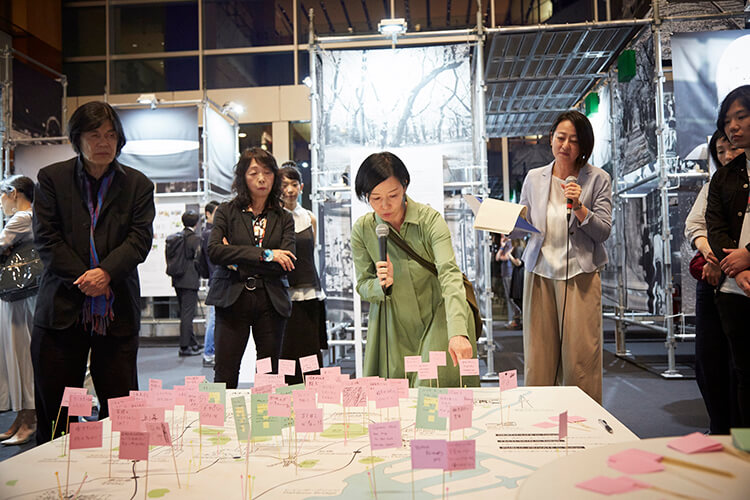 The Private and Public of the Future
After many discussions while walking around Tokyo, the PUBLIC-PRIVATE team produced the following creative question: How can we layout the "blank" that inspires the public to accept each other like a cat? Walking around Roppongi, you'll see people behaving rationally to achieve their own goals. People taking the shortest route as quickly, effortlessly, and efficiently as possible.
However, the PUBLIC-PRIVATE team suggests that this is precisely the kind of situation where we need things like gentle obstacles, or little hurdles. It is possible that rather than a space where everything can be achieved automatically, one where a little conversation is required, or a slightly inconvenient detour, will make for a better public place. Using as an example "a cat that has suddenly run out from somewhere," the PUBLIC-PRIVATE team strongly proposed that designing public spaces to have "little hurdles" will remove the indifference of the people passing through them, and create temporary communities.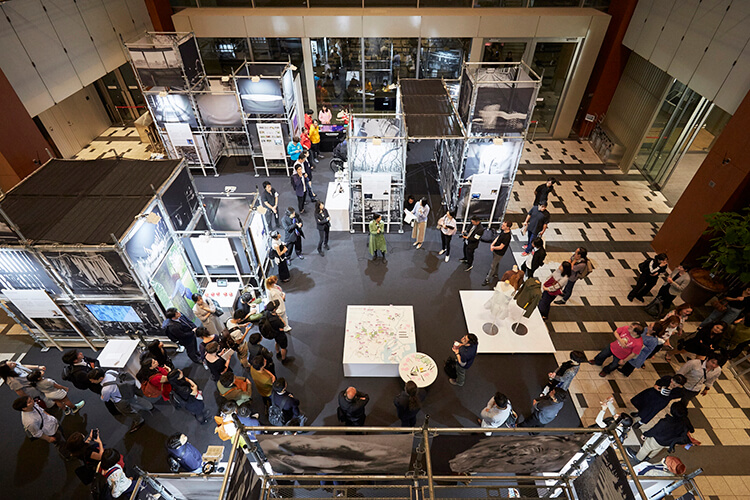 Again, Why "Tokyo"?
The city of Tokyo is undergoing dramatic changes toward the year 2020. Even from a global perspective, there are remarkable developments in technology and science, and it seems as if our lives are getting updated every day. Tokyo is the city that is experiencing these changes the most. That is why we need a place where we can think together about the various issues human kind is going to have to solve. Various experts will concern themselves with thinking through these issues together, then share the questions created from doing so. This "lab for the future" may itself be a form of publicness. FIS has evolved into something new here in Tokyo.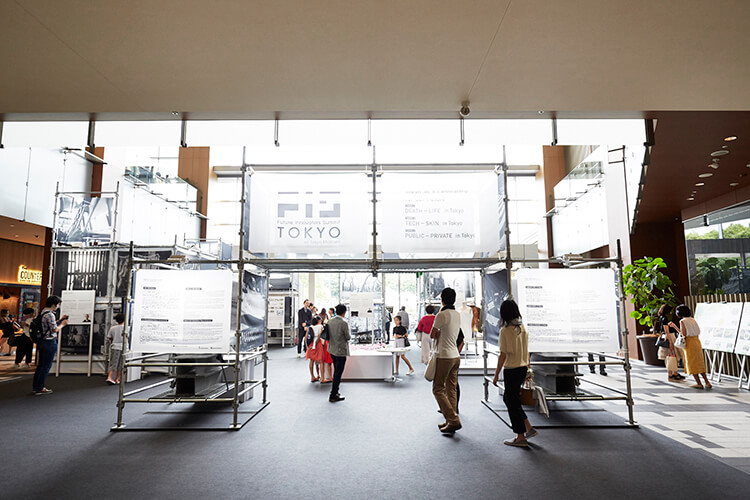 MOVIE