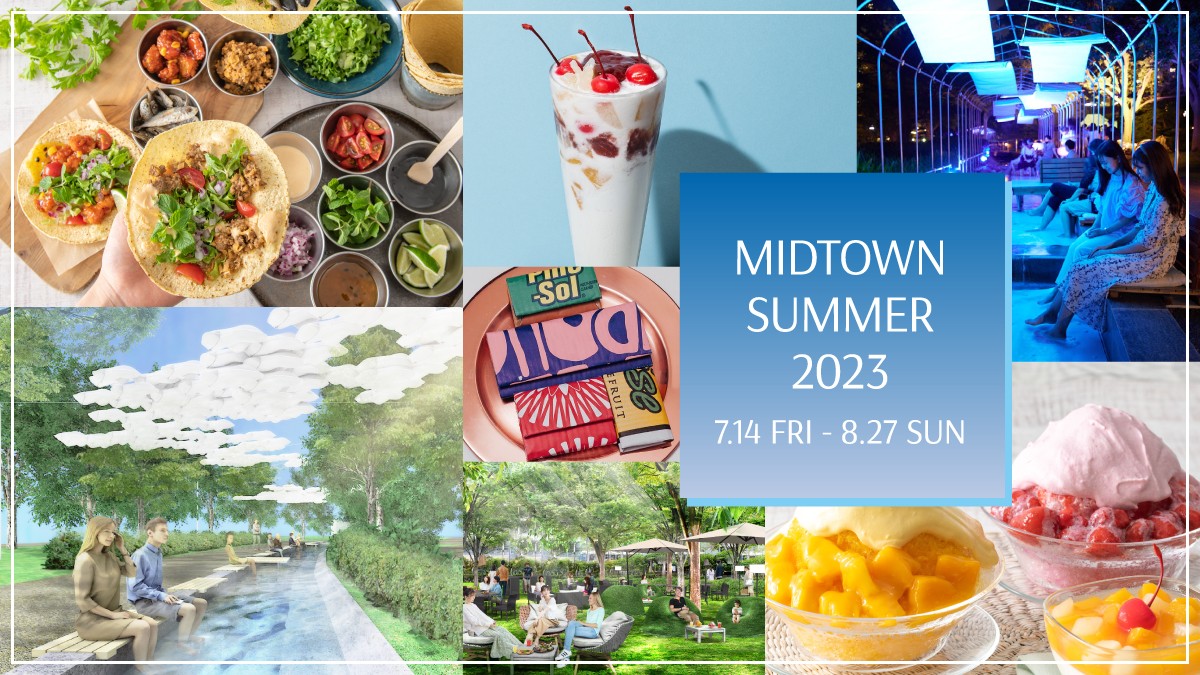 2023/7/14(金)〜8/27(日)
MIDTOWN SUMMER 2023
Trees spreading their branches and leaves toward the blue sky.
A pleasant breeze passes through the trees as you huddle under their shade to avoid the strong summer sun.
Will you come and feel the "coolness of summer" surrounded by greenery in the middle of the city?
開催期間

2023/7/14(金)〜8/27(日)
This event has ended.
Thank you for coming.
MIDPARK LOUNGE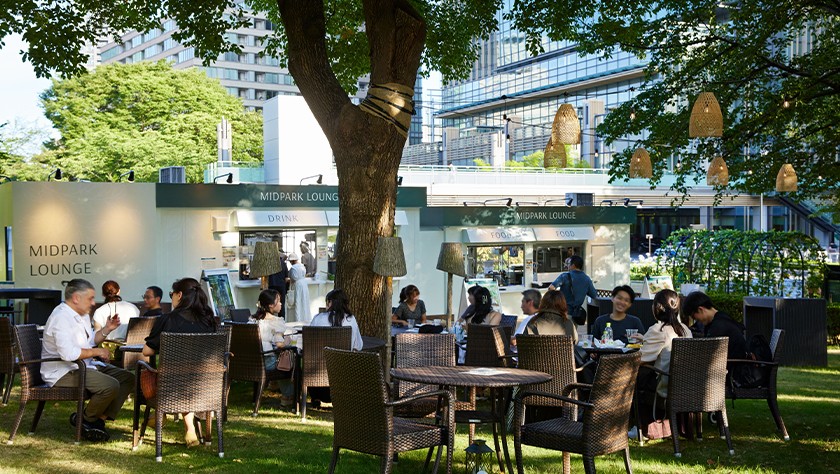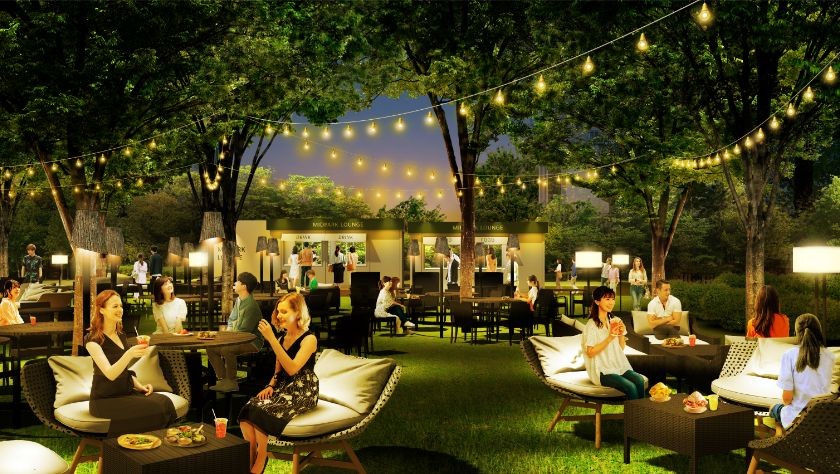 Midtown Garden is now open with "MIDPARK LOUNGE" surrounded by beautiful sunlight filtering through the leaves of the trees. A new type of taco combining ethnic ingredients and sauces, as well as an original menu using herbs and spices perfect for summer will be available. Enjoy a relaxing moment in the open-air lounge.
【Dates】
July 14 Fri - Aug 27 Sun
*Canceled in rough weather
【Hours】
Weekdays 17:00 - 22:00
Holidays 12:00 - 22:00
*Last orders at 21:30
*Opens at 12:00 during the Obon period from August 13 (Sun) to August 16 (Wed).
| | |
| --- | --- |
| 【Seating capacity】 | Approximately 150 seating places |
| | |
| --- | --- |
| 【Organized by】 | Tokyo Midtown |

LOUNGE MENU
This year's suggested menu item is the "Tacos party set," which you can freely arrange with different kinds of ingredients and sauces, such as lamb meat and yangnyeom chicken. Have fun for Tacos party wrapping the ingredients in your favorite combination that will get carried away in conversation. In addition, we also offer spiced curry and vegan menus, refreshing herbal cocktails, and non-alcoholic drinks for beauty and health conscious customers. Enjoy an original menu that can only be tasted here in our outdoor lounges surrounded by greenery.
The tacos are full of originality, with eight different ingredients, mainly Lamb Taco Meat, Yangnyeom Chicken, and Deep Fried Baby Jack Mackerel Fritters, freely combined with three different sauces: Tom Yum Kung, Passion Fruit, and Squid Ink. Please enjoy with plenty of vegetables and mint, and eat with just a squeeze of lime.

This flavorful curry combines the delicious taste of chub mackerel with the sweetness and acidity of tomatoes with a touch of spice. It is a delicious dish for the hot summer.

Two vegan dishes adapted from Middle Eastern recipes.
●Edamame Falafel Frit
- Soy Milk Yogurt Sauce -
Falafel made from edamame beans, served with fried lime leaves and soy milk yogurt sauce.
●Ginger Marinated Ripe Tomatoes
A simple marinade made with ripe tomatoes and ginger. The savory and crunchy texture of "dukkah," a mixed spice made from nuts, will get you addicted.

Shaved ice topped with pulpy sauce and syrup filled with strawberries and mangoes, and topped with a fruity espuma. It's a new type of shaved ice with a fluffy mousse-like texture.

A perfect summer vegan smoothie made with juicy watermelon pulp, plant-based agave syrup, and soy milk. Served with fresh watermelon bar.

●"SUDACHI" Gin Tonic
The cocktail made with syrup and botanical gin and tonic has a refreshing taste with the sudachi fruit's acidity and bitterness.
●Herbal Sol Cubano
A rum-based cocktail made with fresh herbs like tarragon, thyme and rosemary with grapefruit juice and coriander flavors.
●Chill Mojito
A popular summer mojito flavored with lavender. Please enjoy its refreshing aroma.
*All prices include tax.
*The menu is subject to change.
*The MIDPARK LOUNGE is also actively working to reduce food loss and provide meals that incorporate sustainable food, as well as reducing plastic containers.
ASHIMIZU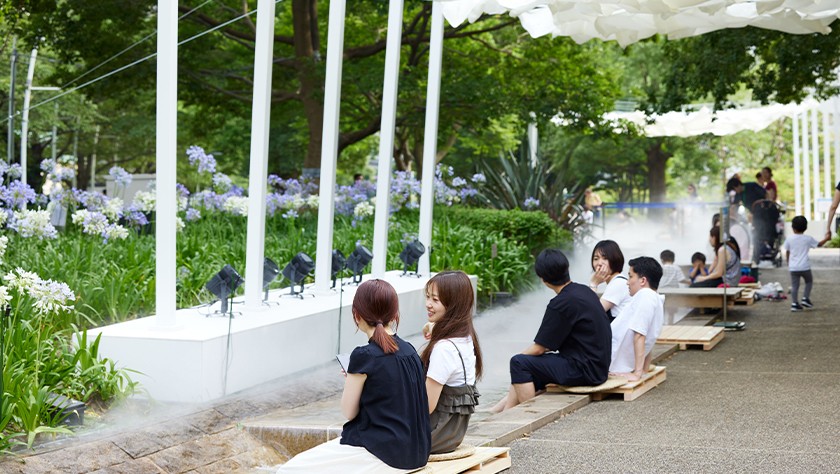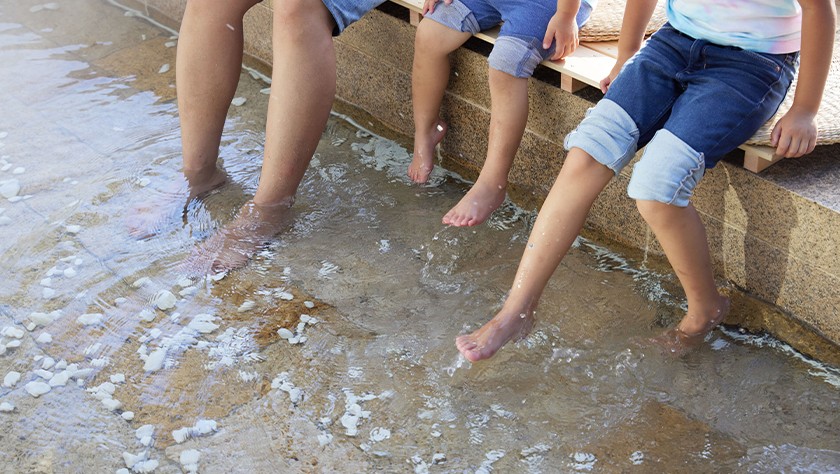 "ASHIMIZU," a place where you can soak your feet in the bubbling stream that flows through Midtown Garden and enjoy the coolness of the evening in the middle of the city. This year, the cool mist is designed to cool you down even more. In the daytime, a cloud-like cover spreads overhead and creates a light shade together with the garden's trees.
【Dates】
July 14 Fri - Aug 27 Sun
*Canceled in rain and rough weather
*Closed every Tuesday
| | |
| --- | --- |
| 【Fees】 | Free of charge *towels available to buy, ¥100 each. |
| | |
| --- | --- |
| 【Seating capacity】 | About 70 seating places |
| | |
| --- | --- |
| 【Organized by】 | Tokyo Midtown |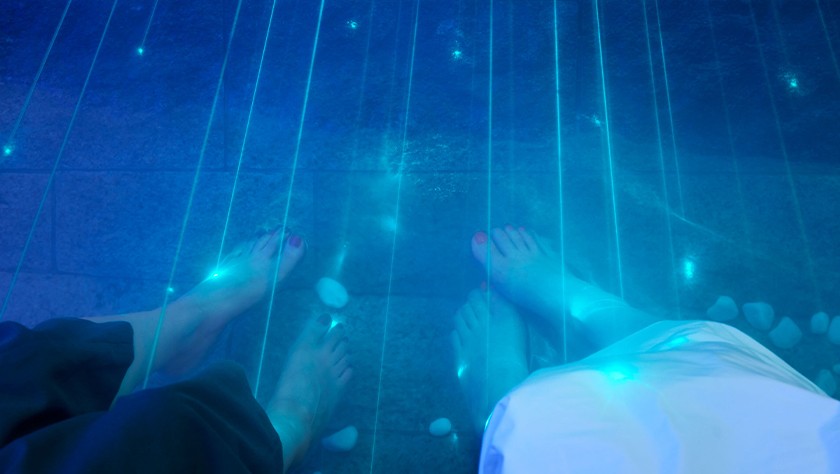 A mysterious and cool experience at night
After sunset, "ASHIMIZU" has added light effects that create a mysterious atmosphere. Enjoy a special summer night surrounded by mist and light while feeling the murmur of the stream at your feet.
MIDTOWN SUMMER WORKSHOP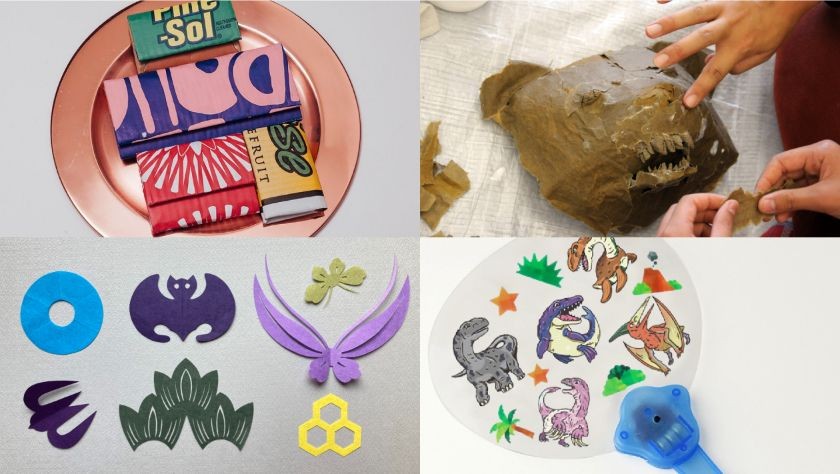 On weekends and during the Obon holiday period, there will be many workshops that can be enjoyed by children and adults alike. We offer a variety of content unique to Tokyo Midtown that will spark your curiosity. On weekdays, you can also enjoy stamp rallies and other installations.
*Please check the workshop list page or the reservation page for details.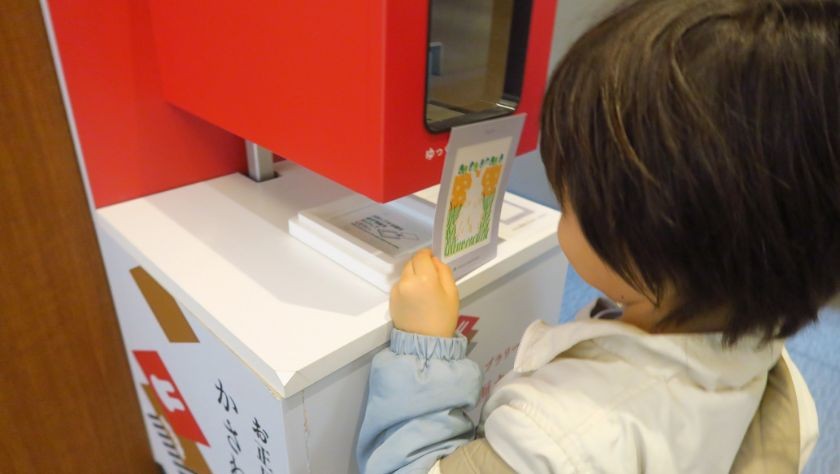 Collect them all! Dinosaur stamp rally
This stamp rally makes a colorful print, and five dinosaurs will appear when you stack the stamps together. Let's make a piece of art by finding the stamp stands set up in five different places around the facility.
| | |
| --- | --- |
| 【Dates】 | July 14 Fri - Aug 27 Sun |
| | |
| --- | --- |
| 【Hours】 | 11:00 - 20:00 *Paper mat distribution time |
【Venue】
5 locations across the facility
*A paper mat will be handed out at the information counter on B1 of Plaza and the first floor of Galleria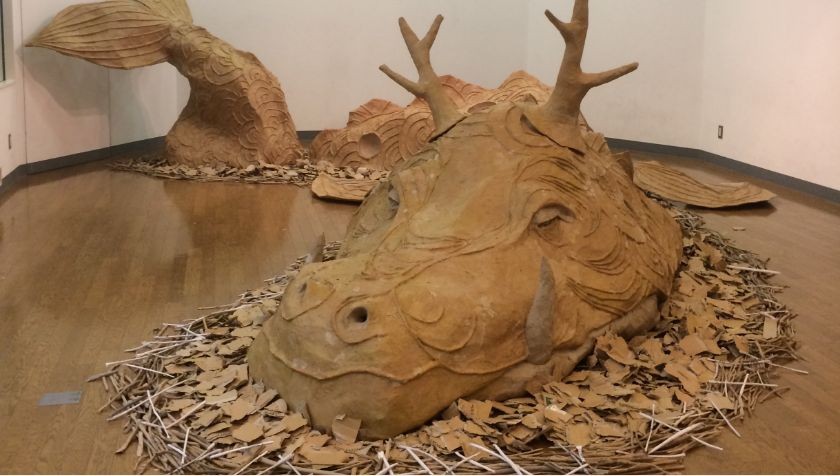 Collaborative workshop: "Sea Dragon Revived in the Field," a permanent exhibition.
Works by Taki Tamada, a cardboard modeling artist as well as a workshop instructor, will appear on the 2nd floor of Galleria. A dragon born from cardboard, symbolizing our modern consumer society, peeps out from the field, and you can hear a pulsing heartbeat as it approaches, carrying with it the message that "everything has a soul."
| | |
| --- | --- |
| 【Dates】 | July 14 Fri - Aug 27 Sun |
ROPPONGI STREET THEATER #03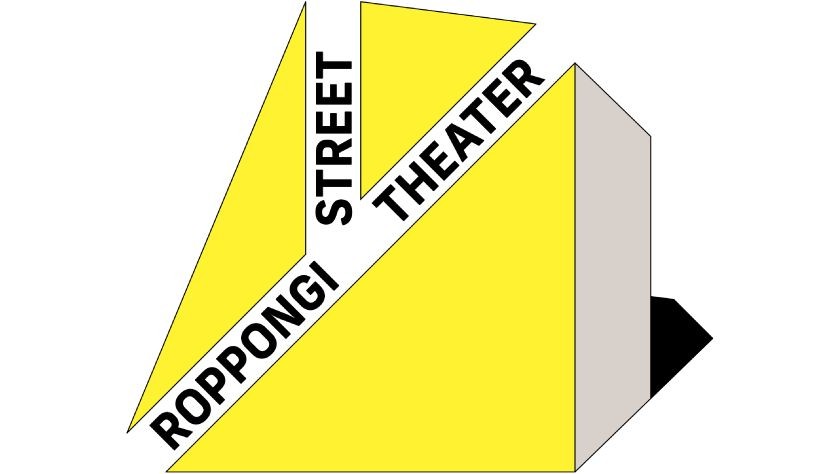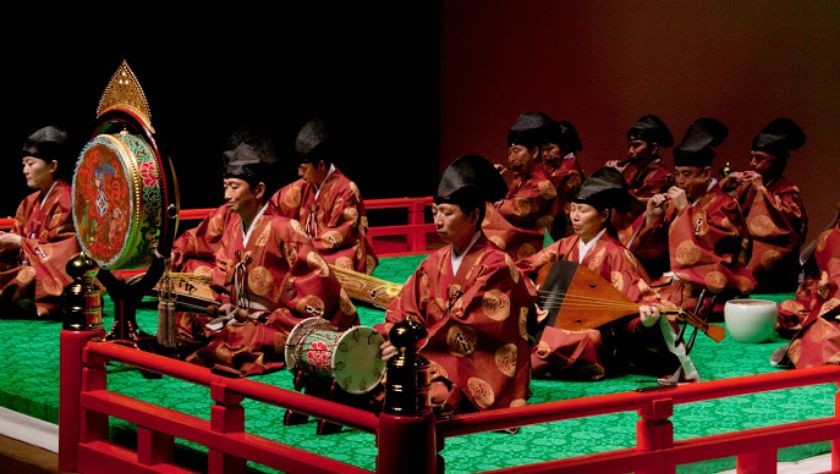 ROPPONGI STREET THEATER presents performing arts with Roppongi's public arts and architecture as a stage. The third event, "Nogi Gagaku Kai" will perform Japanese music and dance on stage along with Kan Yasuda's sculpture "Mindful Heart" and the Midtown Garden in front of "21_21 DESIGN SIGHT" by Tadao Ando. Enjoy the beautiful sounds and dance of Gagaku musicians dressed in period costumes under the summer sky, as well as their seamless integration with architecture and public art. A special performance is also planned inside the grounds of the Nogi-jinja shrine, which will celebrate its 100th anniversary this year.
【Hours】
Tokyo Midtown 13:00 / 19:00(It will be open for about 25 minutes each time and will open 15 minutes before it starts)
Nogi-jinja shrine 17:30(It takes about 20 minutes and opens at 17:00)
【Registration】
No prior registration required
* Depending on congestion, viewing may be restricted.
| | |
| --- | --- |
| 【Organized by】 | Tokyo Midtown × Roppongi Future Talks |
| | |
| --- | --- |
| 【Special collaboration】 | Nogi-jinja shrine&Gagaku doyukai |
Art,Architecture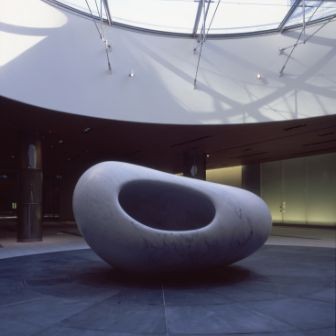 Mindful Heart

Kan Yasuda
A sculpture made of 18.5 tons of marble billions of years old in Pietrasanta, Italy. When you sink into the hole carved into the stone, you will feel as if you are part of the earth, and you can hear the silent voices of ancient times emanating from the stone. Inside the hole carved into the stone, the artist would like you to feel a sense of relief as if you are settling into the earth.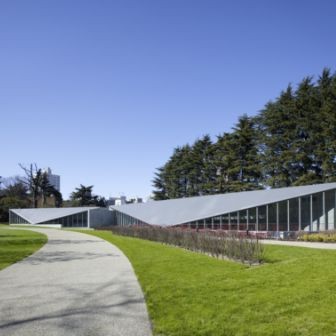 21_21 DESIGN SIGHT
Designed by Tadao Ando. Issey Miyake's idea behind making clothes, focusing on "a single piece of cloth," features a rooftop that looks like a folded sheet of iron, where the world's leading Japanese technology is gathered inside two buildings. About 80% of the space is located underground, creating dynamic spaces such as the sunken court, which is flooded with natural light.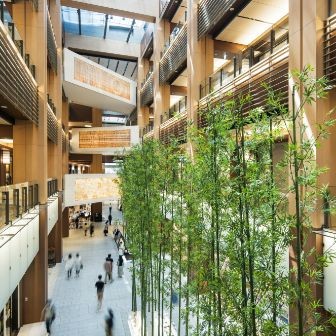 Galleria
Communication Arts, Inc.
Henry G. Beer
Entrance to Tokyo Midtown. When you enter the building through the Galleria Gate, which resembles a Japanese Torii gate, you will find yourself in front of a tree shower based on the "Otowa Waterfall" concept from Kiyomizu-dera Temple in Kyoto. The three bridges that hang over the large space of the Galleria atrium, which extends behind it, are the "Chinju no Mori," a work of Washi paper representing a shrine, a tree, and the sun, found across from B1. The design is inspired by traditional Japanese architecture, with corridors connecting the city and greenery together.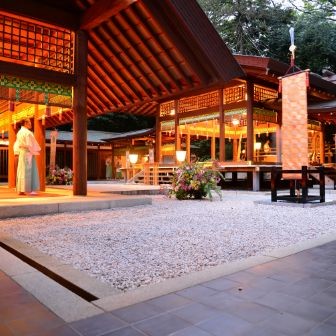 Architecture of the Nogi-jinja shrine
Designed by architect Hiroshi Oe. The rhythm and harmony of the crisscrossing proportions that form the entire architectural structure of the Nogi-jinja shrine, and the combination of "Kiwari" wood splits that make up the contrast between the two. The main shrine building, a modernistic piece of architecture refined by incorporating elements of traditional shrine architecture, creates a tranquil space surrounded by the shrine's guardian deity even though it is located in the heart of the city.

Performer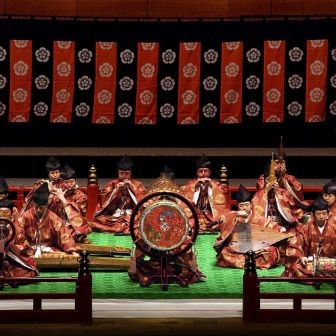 Nogi Gagaku Kai
The group is led by the late musician Hironori Sono, a former master musician of the Kunaicho Gakubu (music department of the imperial household), and with the guiding principle of striving to pass on the classics, it holds performances at Nogi-jinja shrine festivals and weddings, makes wind instruments, and provides instruction to Gagaku groups in various regions.
EVENT MAP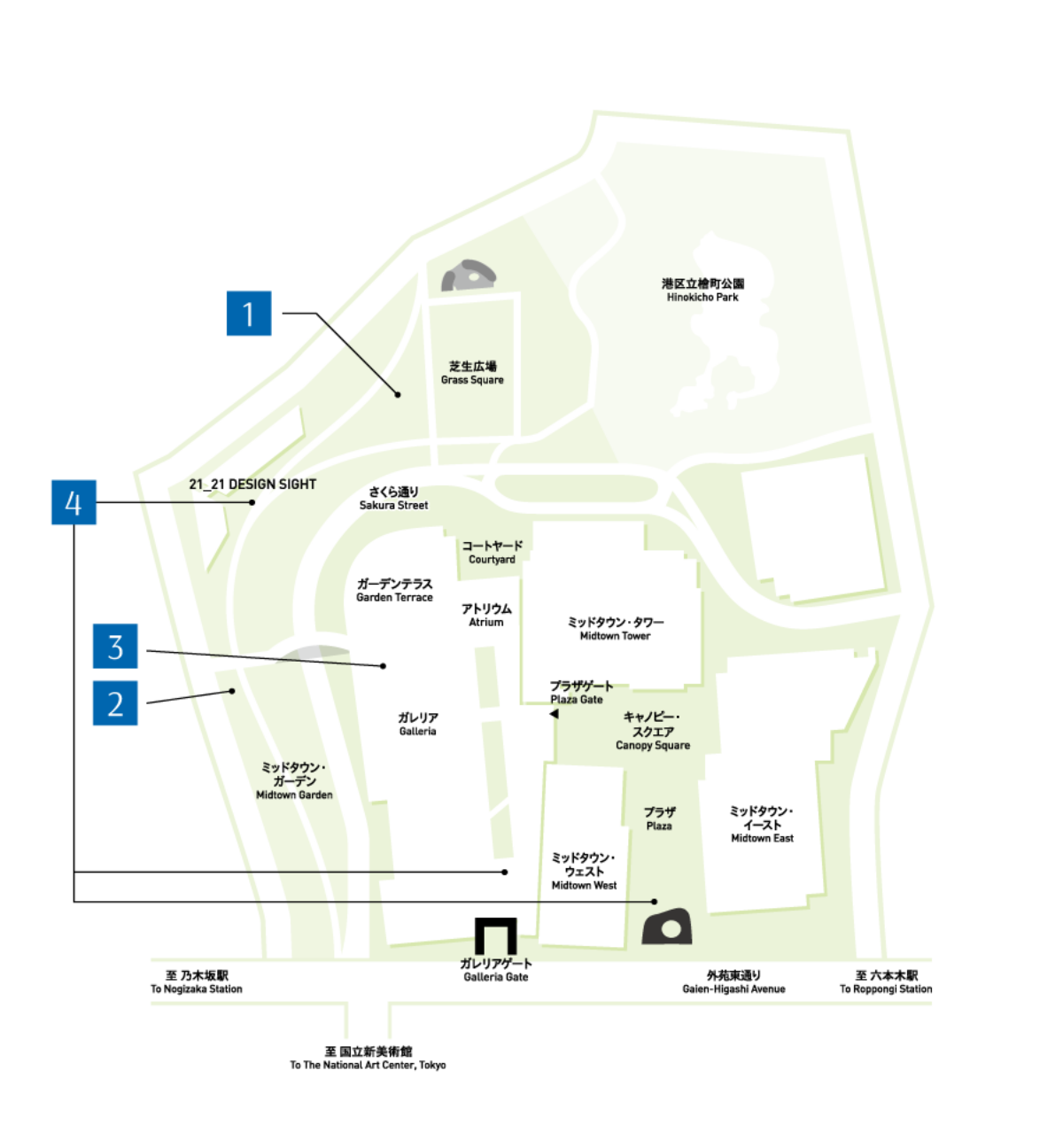 *Held only on Saturday, July 22nd
Map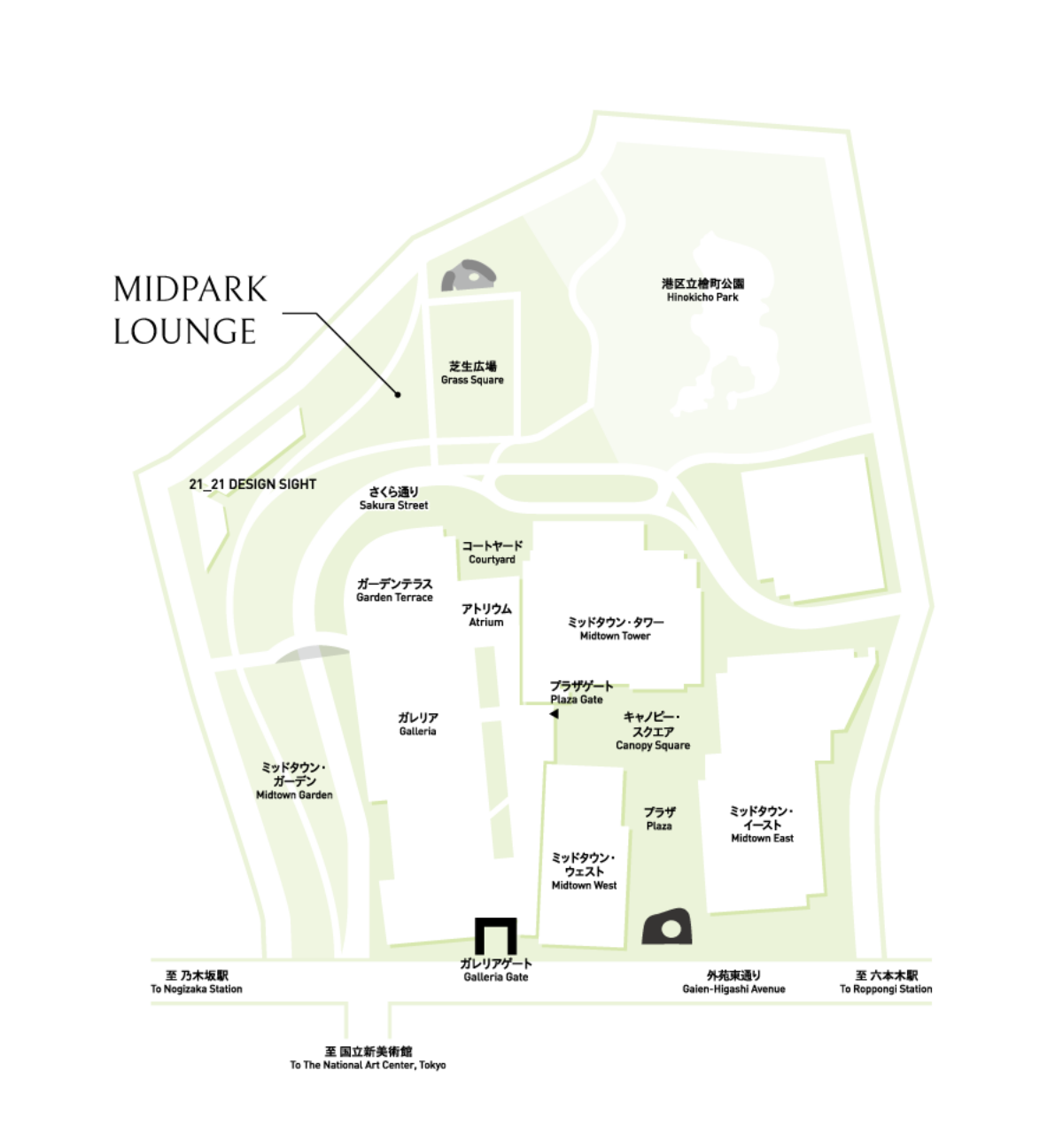 Map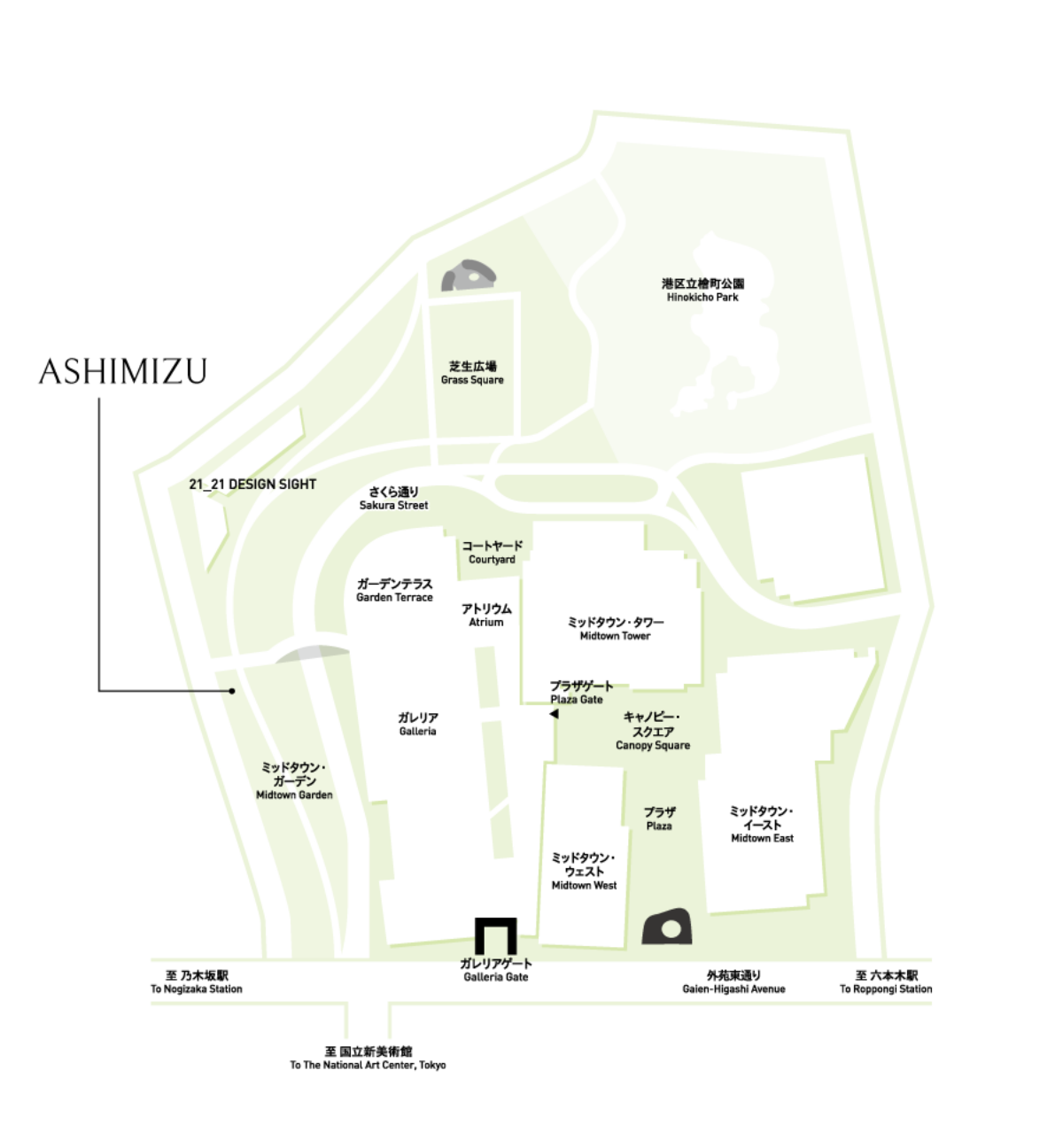 Map
Map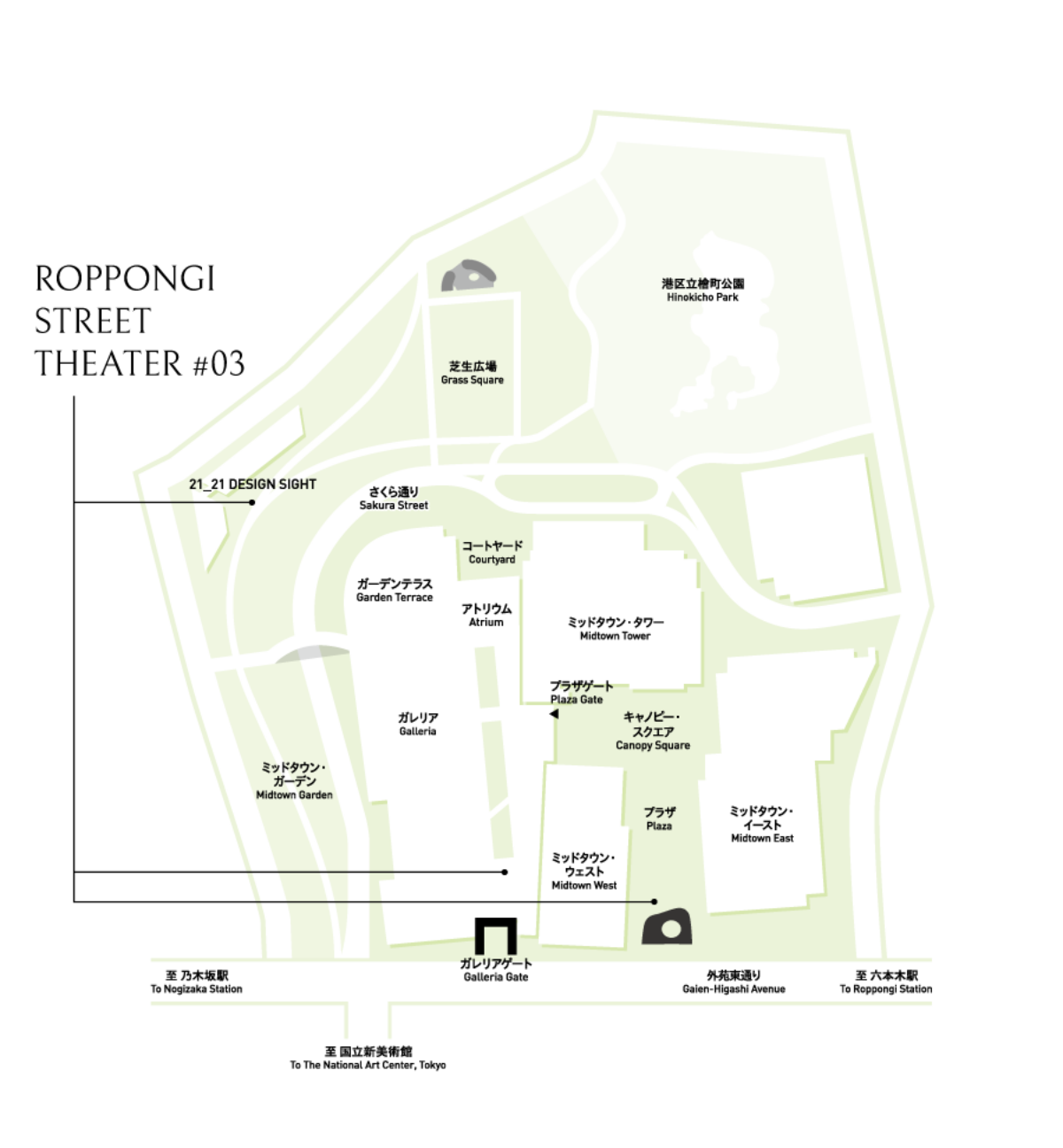 PICK UP EVENTS
エンターテインメント

2023/11/16(木)〜12/25(月)

キラキラと揺れる光に心奪われてふと歩くスピードを緩めれば、この季節ならではの景色に胸が高鳴る。 今年は "BE ENCHANTED..." をコンセプトに、自然が奏でる美しいリズムとともにうっとりする幻想的な演出で、昼も夜もみなさまのホリデーシーズンを彩ります。