The special season is coming—that thrilling
time when the streets are wrapped in
shimmering light. We want to make this the
best holiday season ever, for
children and grown-ups alike.
お知らせ / NOTICE
Route Restrictions at Busy Times

Large crowds are expected between December 23 (Fri.) and 25 (Sun.), and you may have to wait for more than two hours before you can see the illuminations. If you wish to enjoy the illuminations at your own pace, we strongly recommend that you avoid peak times and visit on or before December 22.* The start and end times for route restrictions may differ depending on the state of congestion.

Notes, from December 23 (Fri.) to 25 (Sun.) 16:00 - 23:00 Busy times only

The illumination viewing route will be restricted, depending on congestion, between 16:00 - 23:00 during the above three day period. Please be aware that this will create one-way sections along certain parts of the route. We ask for your understanding and cooperation in order to allow everyone to safely view the illuminations.
You cannot access the illumination venue from inside Galleria.
If you leave the queue for any reason then you will not be able to return to the same place.
Please ensure that you use toilet facilities prior to joining the queue.
Customers accompanied by pets will be unable to queue in the waiting line.
The viewing space for wheelchair users is provided on the priority area for safety reason.
Please follow all instructions from staff when proceeding through the venue.
Since a parking space is expected to be very busy, please take a public transportation.
MIDTOWN
WINTER
LIGHTS
CHRISTMAS
STORY LIGHTS

At Midtown Garden, experience being immersed in light as you marvel at a truly moving illumination show that's like watching an open-air play.

Period

November 17 (Thu.) - December 25 (Sun.)

* From November 17 (Thu.) to December 14 (Wed.), flocks of smoke-filled bubbles will make the space even more special.

Time

17:00 - 23:00

* Subject to change depending on the situation.

Location

Lawn area in front of "21_21 DESIGN SIGHT," Midtown Garden

Organized by

Tokyo Midtown

Sponsor

Netflix

POINT

A special Christmas tale, woven by light and sound

A gigantic gleaming dome, working in harmony with some 300 lights. A dynamic stage of light like an open-air theater vividly evokes a special Christmas Day. Enjoy the exciting Christmas moments hidden in everyone's heart, through a tale woven by light and sound.

For a limited period only

A limited-period show featuring floating white bubbles

Smoke-filled bubbles will be released every six minutes from November 17 (Thu.) to December 14 (Wed.), lending the light-filled garden an even more gorgeous atmosphere. * The bubbles in the show may sometimes flow toward visitors. We ask for your kind understanding in this regard. * The bubbles do not have any effects on the human body, etc. They have also been empirically verified not to alter the color, texture, etc. of clothing they come into contact with.

PARTY POPPER TREE

There will also be a Christmas tree festooned with colorful ornaments of light inspired by party crackers, and a special interactive surprise to boot.

Period

November 17 (Thu.) - December 25 (Sun.)

Time

17:00 - 23:00

* Subject to change depending on the situation.

Location

Midtown Garden

Organized by

Tokyo Midtown

Sponsor

Netflix

Promenade of Lights

As night falls, glittering gold illuminations will emerge. Enjoy a breathtaking timeout surrounded by lights twinkling in an avenue of trees, and reflected in a stream.

Period

November 17 (Thu.) - February 26 (Sun.)

Time

17:00 - 23:00

* There's a light show on the hour every hour.

* Subject to change depending on the situation.

Location

Midtown Garden, Plaza 1F

Organized by

Tokyo Midtown

Sponsor

Netflix
MITSUI FUDOSAN
MIDTOWN
ICE RINK
MITSUI FUDOSAN
MIDTOWN ICE RINK

Enjoy the extraordinary experience of skating on ice at one of the largest outdoor skating rinks in Tokyo. At night, you can also revel in the illuminations.

Period

November 17 (Thu.) - February 26 (Sun.)

* Closed on January 1, 2023 (Sun. & national holiday).

Time

11:00 - 21:00 (reception until 20:00)

* Will open at 18:00 on November 17, 2022 (Thu.)

Location

Grass Square

Organized by

Tokyo Midtown

Sponsor

Mitsui Fudosan Co., Ltd.

More
MIDTOWN ICE RINK Sponsored by
EVENT MAP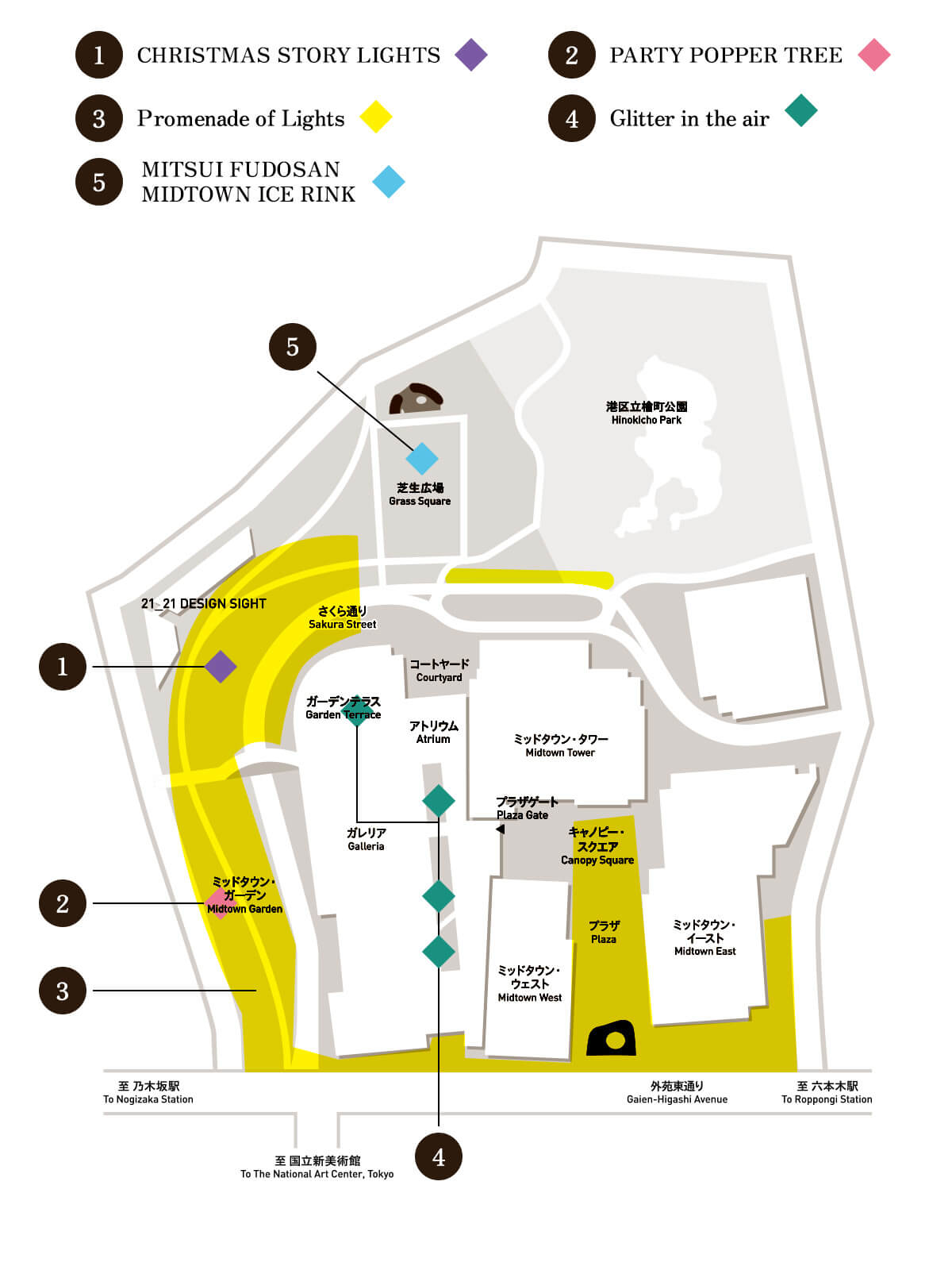 ACCESS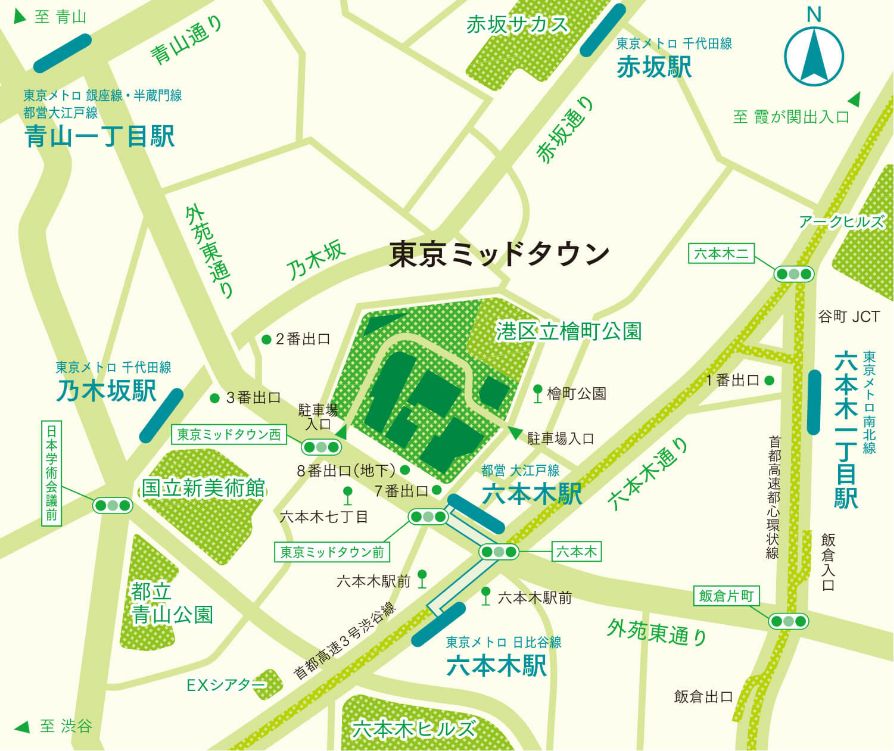 Direct link via underground passageway
from Roppongi Station A 3-minute walk
from Nogizaka Station
GOOGLE MAP

ご覧いただいているページの
イベントは終了しております。